Striking Freeport workers delay their return to work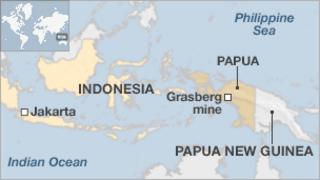 Workers at the Freeport-McMoran copper and gold mine in Indonesia have delayed their return to work after a three-month strike.
The delay occurred amid claims that 500 striking employees working for Freeport's contractors had been threatened with dismissal.
A union spokesman, Juli Pararongan, told the BBC that negotiations on the dispute were continuing.
The strike-hit mine is in Papua, one of the archipelago's poorest provinces.
The industrial action is one of the longest running industrial disputes in Indonesia and has hurt South East Asia's largest economy.
Freeport-McMoran is the largest taxpayer to the Indonesian government.
The decision to end the strike came on 14 December after Freeport bosses agreed to increase wages by 37%.
They also agreed to improved housing allowances, educational assistance and a retirement savings plan for workers to agree to a deal.