BP asks Halliburton to pay for Gulf of Mexico spill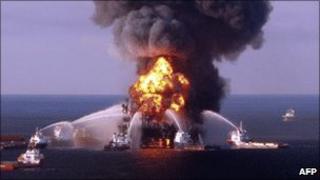 Oil giant BP has asked its contractor Halliburton to pay for all costs and damages that arose from the oil spill in the Gulf of Mexico.
The claims were made in a filing by BP's lawyer Don Haycraft in a US Federal court.
BP and Halliburton are locked in a legal battle with a trial expected this year to settle damages claims.
The offshore spill was the worst in US history, while a blast at the Deepwater Horizon oil rig killed 11 workers.
The accident, which happened at BP's Macondo well in the Gulf of Mexico, is expected to cost the company tens of billions of dollars.
BP has spent $14bn (£9bn) so far in its spill response and cleanup operation and has set aside a further $20bn for damages claims.
According to the filing, BP has sought "the amount of costs and expenses incurred by BP to clean up and remediate the oil spill, the lost profits from and/or diminution in value of the Macondo prospect, and all other costs and damages incurred by BP related to the Deepwater Horizon incident and resulting oil spill".
Cement
BP has so far failed to give an exact figure for its claim.
Halliburton made the cement cap on the well which blew when the blow-out preventer failed.
The explosion killed 11 workers and led to more than 4 million barrels of oil leaking into the Gulf of Mexico.
The action against Halliburton is part of a string of legal disputes resulting from the spill.
Last month, Cameron International, which manufactured the well's blow-out preventer, agreed to pay BP $250m for costs associated with the spill.
Legal action
BP also remains in legal action with Transocean, the owner and operator of the Deepwater Horizon rig.
In January last year, a US commission which investigated the oil spill reported that BP, Halliburton and Transocean shared blame for the incident.
"Whether purposeful or not, many of the decisions that BP, Halliburton, and Transocean made that increased the risk of the Macondo blow-out clearly saved those companies significant time (and money)," the presidential panel wrote.
The case between BP and Halliburton is due to begin in February.