Clinton Cards reports on 'tough' Christmas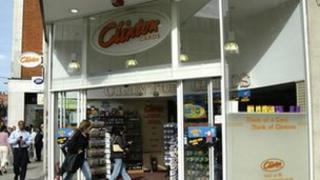 Struggling retailer Clinton Cards has reported its sales for the Christmas period.
Like-for-like sales, which exclude the effects of stores opening or closing, rose 0.4% in the 5 weeks to 1 January. In the 22 weeks to 1 January, though, like-for-like sales fell 1.4%.
It is undertaking a strategic review under chief executive Darcy Willson-Rymer, who took over in October.
He described the retail climate as "tough".
"Going forward, there is clearly more work to be done," he said in a statement.
"Despite a tough retail climate, we remain in line with the board's expectations."
Clinton Cards operates 630 Clinton-branded stores and 141 Birthdays UK stores.
In the year to 31 July it reported a loss of £10.7m.
It put its Birthdays Ireland business into liquidation in March.