Toyota woos customers with safety technology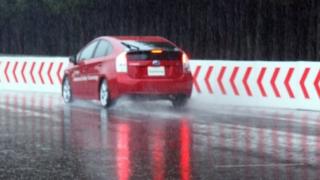 It is easy to suspect that Tomonori Akiyama is seriously unhinged as he points towards a solid red and white wall that blocks the road ahead.
"Keep on going," he says. "Do not steer away, and don't touch the brakes."
At 70km/h (43.5mph) the wall approaches fast, then - just as we are about to crash - the car's seat belts tighten, its brakes are applied and an invisible force takes control of the steering.
The car comes to a complete standstill on the wet tarmac, well clear of the wall and without any drama.
The experience felt more like a planned slowdown than an emergency, just as Mr Akiyama had predicted.
As one of the carmaker Toyota's advanced vehicle control system developers, he should know - though he concedes that as yet the carmaker has not filed for type approval for the automated emergency system.
Rebuilding trust
As such, the controlled technology demonstration contrasts sharply with Toyota's freefalling fortunes over the last couple of years.
A badly handled mass recall of Toyota models a couple of years ago left the Japanese automotive giant's reputation in tatters, especially in the all-important US market.
Then, last year, parts supplies were disrupted following the 11 March Japanese earthquake, tsunami and eventual nuclear energy crisis, and then later in the year by floods in Thailand, thus hampering the carmaker's ability to deliver.
Next week, Toyota will be at the Detroit auto show, however, eager to rebuild the trust of the American people.
And it is clear that advanced safety technologies - such as innovative braking and steering systems, lane departure alerts, or adaptive high-beam driving lights - will be central to its message.
Number one
Toyota's sales in the US fell 6.7% to 1.64 million vehicles last year, at a time when the overall market there expanded some 10%.
Arch rival General Motors' sales in the US rose 13% to about 2.5 million, so it now seems clear that the Detroit-based manufacturer is not only the best-selling firm in the US, but could also soon be about to reclaim the position as the world's best-selling carmaker.
That, however, is not a concern to Toyota, which in spite of losing money at the moment remains the largest carmaker by far when it comes to market capitalisation.
According to Morgan Stanley, Toyota was worth $99.8bn at the end of last year, much less than its $127.3bn value a year ago - but still more than three times the value of GM, which is ninth on the list, and well ahead of fast-growing Volkswagen Group, which comes in second at $70.1bn.
"I'd never say we'll be number one in all areas," head of research and development Takeshi Uchiyamada tells BBC News in an interview.
"But there are three areas where we want to be the best - namely quality, environmental technology and safety technology.
"And not just passive after-crash safety. We want to be the best provider of active pre-crash safety technology that helps prevent accidents from happening in the first place."
Japanese rival
Sales growth, and thus a return to profitability, should come as a result of customers' renewed trust in and appetite for Toyota products, Mr Uchiyamada believes.
Though with a lot to prove, it could be an uphill struggle - not least since Japanese rivals are snapping at its heels.
Nissan is particularly aggressive in its efforts to overtake Honda as the second-largest Japanese carmaker in the US market.
"The US ambition for Nissan is to reach a 10% market share," chief executive Carlos Ghosn tells BBC News in an interview.
"We've progressed a lot in the last three years, so at the moment we have about 8% of the market."
Honda, meanwhile, suffered a 6.8% fall in sales to 1.15 million vehicles, sending its market share slipping to single-digit figures from more than 10% the previous year.
During the same period, Nissan's US sales rose 14.7% to 1.05 million vehicles, dramatically narrowing the gap between the two.
Smaller Japanese carmakers also enjoyed growth in the US, with Mitsubishi enjoying the best year with a 41.8% rise in sales to 79,000 cars. Suzuki's sales rose 10.9% to 26,600 cars, Mazda sales grew 9.1% to 250,400 cars and Subaru sales were up 1.2% at 267,000 cars.
Troubleshooting
Away from the number crunching, at Toyota's Higashi-Fuji Technical Center, a small army of overall-clad technicians are getting ready for one of the frequent crash tests carried out to make sure the cars the company makes are as safe as possible.
In a vast hall the size of an ice hockey arena, a rhythmical, almost musical, alarm precedes an almighty bang as a Crown Royal Saloon collides head-on with a smaller Yaris.
As the technicians step into the floodlit area to pick up the pieces, it is obvious that they will do everything in their power to identify any potential problems with the cars' design.
Toyota's executives have spent the last two years scrutinising the design of the company itself, and it is equally obvious that the restructuring they have pushed through on the back of their comprehensive troubleshooting exercises will have been thorough.
Toyota may have suffered setbacks, and rivals have clearly stepped up to the mark wherever possible.
But none of them will be complacent. They all know it is far too early to write off the world's most valuable carmaker.