UK recession is not yet inevitable, survey says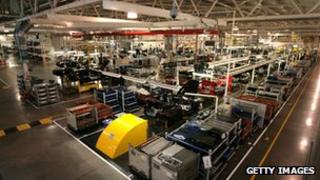 The UK economy will remain weak for the foreseeable future, but recession is not inevitable, according to the latest quarterly survey by the British Chambers of Commerce (BCC).
The survey, of more than 6,000 businesses, suggests that the economy has "significantly weakened".
Domestic demand is at its lowest level in more than two years, the BCC said.
But a "new recession is not a foregone conclusion," said BCC director-general John Longworth.
The BCC calculates its figures as balances - subtracting the percentage of companies reporting decreases from the percentage of companies reporting increases.
In terms of domestic orders, the balance of manufacturing orders for home deliveries declined over the past three months. Forward-looking orders also fell nine percentage points to -12%.
In the service sector, the home orders balance dropped six percentage points to -9%.
All three levels - for the last three months of 2011 - are at their lowest since the third quarter of 2009.
'Urgent action'
Still, the BCC said that the results do not indicate a recession, and are still better than those seen in the worst phase of the last downturn that began in 2008.
"Improvements seen in the last two years have largely been cancelled out," Mr Longworth said.
"Action is needed urgently to tackle short-term stagnation and a lack of business confidence, damaged by the ongoing eurozone crisis."
The UK economy grew by 0.6% between July and September, official figures showed in December, driven by strong performance in the service sector and construction.
British firms in manufacturing and services do not seem optimistic about future recruitment.
In manufacturing, the employment expectations balance plummeted 18 percentage points to -8%. In services, it fell four percentage points to 2%.
Official figures show that UK unemployment is currently at 2.64 million, the highest level since 1994.