India opens part of retail sector to foreign stores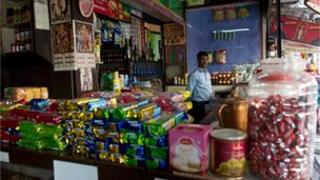 The Indian government has allowed single-brand foreign retailers to open stores, clearing the way for companies such as Starbucks and Ikea.
Retailers can now invest beyond the previous limit of 51% ownership.
However, they are required to buy 30% of their goods from domestic small industries.
The move is a step forward after plans to open up the lucrative supermarket, or multi-brand sector, were delayed following a political outcry.
The cabinet approved the plan to allow wholly foreign-owned "single brand stores" in December. A government notification was issued late Tuesday announcing its implementation.
Large domestic retailers were happy with the agreement, which was pushed through by the government on Tuesday.
"This is a welcome move with a clear potential to lift the general mood in the economy," said Rajan Bharti Mittal, managing director of Bharti Enterprises which partners with Wal-Mart supermarkets.
Previous attempts to open up the retail sector have met with mass protests in the country and within the government.
Prime Minister Manmohan Singh reversed a decision in December to let multi-brand companies such as Wal-Mart and Carrefour to open supermarkets in India.
Those against the move said it would hurt small local businesses.
Mr Singh has said he will renew the attempt to open up the sector after regional elections in 2012.