Family ties 'help Asian businesses in UK'
By Sanjiv Buttoo
BBC Asian Network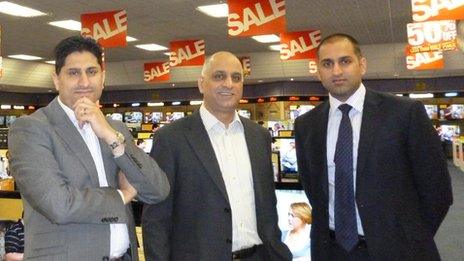 Tan Choudhry has been selling fashion clothing from his market stalls in South Yorkshire for the past 25 years and, like many people from South Asian families who run a business, he learnt the trade by helping his father.
Mr Choudhry says in the past, hard work was the key ingredient to making money, but nowadays times are very tough and he has never seen a downturn in the economy like we're experiencing at the moment.
"We sell good quality garments cheaper than many shops and we've always been popular with local people looking for a bargain and good service, but things have never been this bad," he says.
"I just think that with all the government cutbacks at the moment, people are scared of losing their jobs and don't want to spend money."
But Mr Choudhry says he's in a relatively good position because he's not borrowed any capital from the bank and can afford to sit on his stock until things get better.
"We've been minimising our overheads and we try and work more keenly by keeping our prices low by reducing profits," he says.
"The price of the stock we buy is going up and we are taking a hit, but it's something we have to do to stay in business; we just have to get on with it and hope the recession does not last too long."
According to academics, small to medium-sized Asian-run businesses are less likely to fail when there's a downturn in the economy because of the way they are set up and financed.
Dr Malcolm Chapman is senior lecturer in international business at the University of Leeds.
"Asians tend to finance business internally or use capital from family derived networks; crucially those networks are tolerant of slow repayment of loans if slow repayments become necessary," he says.
"Because many are family-run concerns, they become a sort of life-support system and you don't switch that off because it's not just about making profit that goes to some anonymous shareholder."
Madan Showan ran a medium-sized electrical retailer with stores in the north of England and a large online site. At its height, he employed hundreds of people and had a turnover of £160m.
But that business went under in a matter of months once the recession struck.
"We used to have a profitable business with a really strong balance sheet and an impeccable credit rating," he says.
"Due to market factors in the UK and United States, our credit insurers decided to reduce their risk and we could not find the £7m we needed in the short term.
"There was no support whatsoever from the so-called banks, so we had to go into administration, which was heartbreaking because I had built this business over the past 30 years."
Mr Showan was convinced by his two sons that they had a winning formula and they should start again, so he took a back seat and now helps them with their new venture.
"We mortgaged all our properties and went back into business and, although the economic climate is rough, my sons have worked hard and we are making money and have a good healthy bank balance," he says.
"Crucially, this time around we are not relying on any banks or credit insurers - we have borrowed from the family and we have no pressure or unreasonable demands from outside factors."
Shahid Rasool, a lecturer in entrepreneurship at Bradford University's business school, feels that although there are no official statistics to prove his theory, Asian business is built on firm foundations where everybody helps during hard times.
"A major cost for any business is staffing, and Asian business draws upon the family to come in and help out sometimes with reduced or no pay, because they know it will benefit the whole family," he says.
"Asian shopkeepers may aspire to grow their business and own a supermarket, or go on to owning a cash and carry, but they won't do it if they don't have the capital to expand; they do not like to grow too quickly and on debt."
Irshad Akbar, a business adviser working for the Asian business development network in South Yorkshire, says there are initiatives out there that are designed to help small and medium-sized businesses grow or help them work better in a recession, but most clients are not Asian.
"If [Asians] came forward for help, they might be able to relocate and pay lower rent and rates or secure other types of funding that would reduce running costs," he says.
"We could even help them with business plans, but they're suspicious.
"Asian businessmen are taught that nothing is ever free and they have a hard time accepting that there is help out there. Many could know it exists but fear there will be a catch further down the line, and if they can't predict what could happen they don't want to get involved.
"Maybe that's why they are so good at running successful businesses, even during tough economic times, but they should come forward and see what help is out there for them."
Related Internet Links
The BBC is not responsible for the content of external sites.