UK producer prices unexpectedly decline in December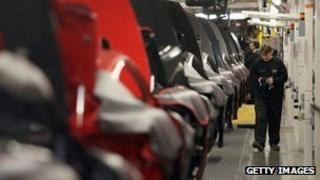 UK producer prices fell unexpectedly in December, the first decline since June 2010, as inflationary pressures eased.
Factory gate prices declined 0.2% from November, the Office for National Statistics said. Analysts had expected a modest gain.
Producer prices rose 4.8% from a year before, the lowest rate in a year.
A key figure, the price for petroleum products, fell 0.9% over the month. The price of benchmark crude oil fell 1.5% during December.
'Right direction'
The data adds to expectations that inflation will come down this year.
"Though price inflation for both inputs and outputs is still relatively high in absolute terms, the trend is moving in the right direction, and this will contribute to lower consumer price inflation in 2012," said David Kern, chief economist at the British Chambers of Commerce.
"As the squeeze on businesses and consumers eases, there will be scope for demand in the economy to improve gradually later this year."
The Bank of England said earlier this year that it expected the rate of inflation to drop in 2012, as prices fall back and the impact of the government's increase in VAT from the start of 2011 is no longer felt.
The rate of inflation in the UK fell to 4.8% during November, down from 5% the month before, the ONS said last month, but the rate is still well above the Bank's target of 2%.
The Bank believes weak economic growth will push inflation below the 2% mark over the next 18 months.
On Thursday, UK industrial output fell 0.6% in November, which further heightened concern over the strength of the economy.
Other data has also pointed to a decline in domestic demand in the UK economy.