Liverpool signs new kit deal with US firm Warrior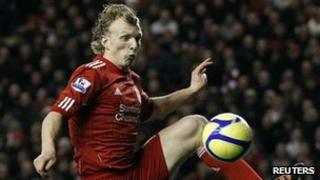 Liverpool has signed a six-year deal with US sports firm Warrior Sports to make the Anfield club's kit from June.
The company, owned by New Balance, replace German giants Adidas as the maker of the Premier League team's home, away and third kits.
Warrior, associated with ice hockey and lacrosse in the US, will also make the club's training kit.
It comes after Spurs said last year that another US firm, Under Armour, would make its kit from 2012/13.
Liverpool has not announced the value of the deal, but some reports have put it at £25m a year.
The club's shirt is one of the top selling replica shirts in the world.
Richard Wright, general manager of Boston-based Warrior, said: "We are here to shake up the world of football".
Liverpool, winners of five European Cups, sit seventh in the Premier League and are in the semi-final of the League Cup.
They face Bolton Wanderers in the Premier League on Saturday.
"This is another landmark deal for Liverpool Football Club and once again shows the value of the club's brand globally," said Ian Ayre, the club's managing director.
Adidas first made Liverpool's kit between 1985 and 1996, and then from 2006 until the present.