Irish Republic economic growth forecast cut by troika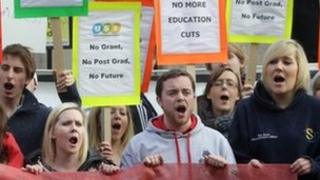 The European Union, International Monetary Fund and European Central Bank have cut their economic growth forecast for the Irish Republic.
The forecast for 2012 has been cut to 0.5% from 1.0%. In November, the Irish government predicted growth of 1.3%.
The announcement followed a visit from the so-called troika lenders.
The troika also said that the Irish Republic had achieved all of the austerity goals needed for it to keep receiving international loans.
The Irish Republic managed to cut its 2011 deficit to below 10.6% of its gross domestic product, having recorded a deficit of 32% in 2010.
But low growth will make it harder for the Irish Republic to achieve its goal of a deficit no more than 8.6% of GDP in 2012.
Under the terms of the November 2010 bailout, the country must reduce its deficit each year until it is less than 3% of GDP by 2015.
The country is now eligible to receive the next 9.7bn euros of loans from its total 67.5bn euro bailout.
Finance minister Michael Noonan said the Treasury was planning to return to the bond markets to sell short-term bonds in the second half of the year.