HMV gets breathing space from banks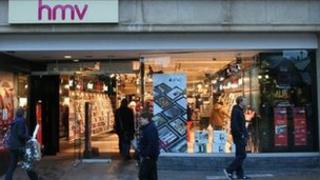 HMV shares almost trebled in value on Friday after the firm struck a deal with banks and suppliers aimed at halving its debts in the next few years.
The struggling music and film retailer said it was being given "significantly enhanced" headroom in which to recover.
The new deal with suppliers gives them 2.5% of the shares in HMV and should cut debt by 50% within three years.
Shares ended at 7.1p, a rise of 197% on the day.
The company said the new deal would have a "materially positive impact" on the group's profitability and cash flow.
Earlier this month, the company reported a sharp fall in sales for the Christmas period, with like-for-like sales, which strip out the effect of shop closures, down by 8.1% in the five weeks to the end of December.
The group then reiterated concerns about its ability to trade in its current form.
Its banks have agreed to waive a test of its finances which was due this month.
HMV's chief executive, Simon Fox, welcomed the new deal with the banks and suppliers: "These developments represent a material improvement in our financial position relative to the statement we made at the time of our interim results."
The debt reduction forecast is aside from any extra money that may be raised from selling parts of the business.