General Electric shares fall on lower revenues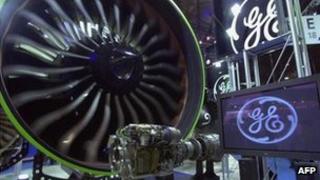 US industrial conglomerate General Electric has seen its profits rise, but its shares fell after revenues were lower than expected.
GE shares opened down more than 2% as investors reacted badly to the results for the three months to 31 December.
Fourth-quarter earnings from continuing operations rose 26% to $4.5bn (£2.89bn) but revenue fell 8% to $37.9bn.
GE blamed lower-than-expected revenues on slower-than-expected growth in Europe and currency changes.
Europe downturn
For the full-year, the picture was similar. Earnings were up to $20.1bn from $14.1bn in 2010, while revenues for the year were down.
Revenues in 2010 were boosted by the sale of GE's majority stake in broadcaster NBC, which largely accounts for the fall in revenues in 2011.
However, the results for the final three months of the year were still about $2bn below analysts' expectations.
The company, which manufactures a range of industrial products including jet engines and turbines for power generators from coal plants to wind farms, said it would change its European business in response to the poor economy.
"We expect continued volatility in 2012 and have prepared for it by investing in new products and technology, expanding our growth market footprint and taking important steps to strengthen risk management," said GE chairman and chief executive Jeff Immelt.
"We are restructuring our businesses in Europe to reflect market conditions," he added.