Swedes cheer economic prosperity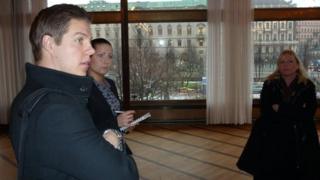 Across the water from Stockholm's Old Town, with views of the National Museum and the Royal Castle, Henrik Lundqvist is showing a client around the glamorous venue for a dinner he is planning for 120 business executives.
Mr Lundqvist and four friends set up the events management firm Springconf in 2008, just as the global economic crisis struck.
Obviously they were rather nervous about how the business would perform, but as it turned out this line of work - which is often the keenest early indicator of recession - has flourished.
"We were fortunate enough to have lots of clients going with us from the start and we were invoicing more or less from the first week," Mr Lundqvist says.
Doing well
Springconf remains a small business with 10 staff, though it has grown to twice the size of what it was a couple of years ago.
Profits have doubled too, Mr Lundquist says, so he is as pleased with the company's performance as he is with Sweden's strong economy.
"Our latest situation proves we are doing things right," he says.
"And if you look at what's happening around Europe, especially in Greece and Italy, of course we're very satisfied with the way the Swedish government has handled this situation and with the way Swedish companies are doing as well as they are."
'Stability and optimism'
Mr Lundqvist is not alone in admiring the government's performance.
In fact, it seems to be the norm among Swedish voters to be satisfied with a government policy that has ensured healthy levels of investment and a trade balance that is envied by most of the rest of the European Union.
"There are some very fundamental ways in which we are doing things differently from the way we did them in the '70s and '80s," says Anders Borg, the finance minister almost as famous for his ponytail and earring as for his steady handling of the national economy.
Sweden learned a lot from a previous banking bust in the early 1990s. Since then, it has adopted a tough stance on the banks, protecting the institutions rather than their bosses and maintaining a steady flow of lending to private business.
"We have had a hard-learned lesson," says Mr Borg. "We have come a very long way to get to the position we are in now."
Yet Mr Borg is modest about the praise that is often heaped on him these days.
"We seem to be, at least, in better shape than some of the other member states," he says, predicting that the Swedish economy will grow this year.
"We have opened up our domestic service sector to competition. Our economy is more open to world trade than it was 20 years ago. We have kept our financial system and our public finances in better order.
"There is more stability here due to the strong public finances and it also seems that households and companies are somewhat less pessimistic than elsewhere in Europe."
Popular tax authority
But not all indicators point north any more.
Sweden's economic growth is expected to slow, a prediction that has resulted in a tacit admission that a country so heavily reliant on exports cannot remain immune from the problems faced by its customers abroad.
Indeed, the Swedish krona is far from the economic buffer it once was, according to Mr Borg.
But Sweden has another vital weapon in its armoury against economic decline, namely a peculiarly Scandinavian trust in the state that ensures people's willingness to pay higher-than-average taxes.
In fact, surveys suggest that the Swedish tax authority Skatteverket is consistently one of the most popular representatives of the state, according to the authority's compliance strategist, Lennart Wittberg.
"We have high taxes and people know that," he says.
"But our job is to collect the taxes in a proper way and treat the taxpayer with respect and fairness.
"If we do that, they will accept our decisions and they will also trust us."
Getting a lot back
An example of this is a "black box" system that monitors every cash transaction in every shop, restaurant and cafe to safeguard against non-declaration of taxable income.
When it was first introduced, even the smallest of businesses welcomed the initiative as a move towards fairer competition, Mr Wittberg insists.
A group of friends enjoying cinnamon buns in one of Stockholm's many cafes seem to agree with the tax inspector.
"I think there's a very long tradition of being used to paying high taxes and getting a lot back for it," says Mia.
"A lot of people outside of Sweden are very surprised about the maternity leave we get here, for instance.
"We have lots of friends who stay at home for up to a year-and-a-half with their children and they get money for it. When it comes to health and dental care too, we get a lot back."
When asked what they would think of someone who fails to declare their full income in order to avoid paying taxes, Mia and her friends Emma and Sara agree.
"They're a bad person - as simple as that, for sure," is their answer.
The answer might have been different in many other countries in Europe.