Deutsche Post told to repay state aid by EU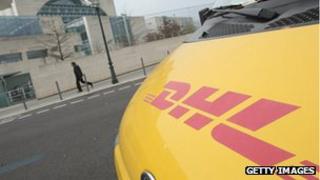 The European Commission has told the German firm Deutsche Post DHL to repay between 500m euros ($648.3m, £415.9m) and 1bn euros in state aid.
The German government has said it will comply with the ruling and ask for subsidies to be paid back this year.
But the logistics firm, which owns DHL, has said it will appeal the ruling to the European Court of Justice.
Deutsche Post boss Frank Appel said the ruling was "incomprehensible and has no basis in fact".
Pension costs
The Commission said that Deutsche Post benefited from highly regulated prices and subsidies designed to help it with the pension costs for civil servants.
It ruled this led to "significantly lower social contributions than its private competitors".
It also investigated the markets in Belgium, France and Greece.
Belgium was ordered to recover 417m euros of aid given to Bpost between 1992 and 2010.
However, the markets in France and Greece were judged to be fair.