IMF warns over risk of Iran oil price shock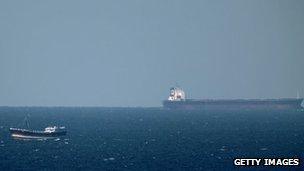 The International Monetary Fund (IMF) has warned of a 20-30% oil price spike if Iranian exports are disrupted.
The IMF warned that if the West imposed financial sanctions on Iran, it would be tantamount to an oil blockade, and the shock to the market could be as bad as from Libya's revolution last year.
Iran produces 5% of global oil output.
Moreover, if Iran goes ahead with a threat to blockade oil exports via the Straits of Hormuz in the Gulf, the IMF said the shock could be even greater.
About a quarter of all oil produced globally, and some 40% of all oil exports - including those from Iraq, Kuwait and Saudi Arabia - are shipped through the Straits each year.
The market is already pricing in a small risk of an escalation of tensions between Iran on the one hand, and the US, Europe and Israel on the other, according to the IMF's estimates.
Western countries have been threatening sanctions if Iran does not halt its nuclear programme, which they maintain is being used to develop weapons.
The fund warned that the impact on oil prices of either scenario would be accentuated by the current tightness of oil supplies.
The oil stockpiles of major oil consuming countries are lower than usual, while the big oil exporting countries have limited short-term ability to increase supply, the IMF said.
Iran is the world's fifth-largest oil producer, extracting 3.5 million barrels a day. Other members of the Organisation of Petroleum Exporting Countries (Opec) have some 3.8 million barrels in spare capacity that could eventually be made available.
However, in the case of an oil blockade by Iran, access to oil supplies from other major Opec countries - including crucially Saudi Arabia - would also be cut off.