Easyjet sees passengers and revenues rise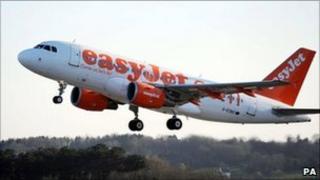 The low-cost airline Easyjet saw revenues rise 16.7% in the last three months of 2011 as passenger numbers rose 8.1%.
The company said that comparisons with the same period last year were flattered by last year's business being heavily disrupted by snow.
Easyjet said this meant that the costs of flying per seat - a key measure of profitability - had fallen by 1.6%.
The airline flew a total of 12.9 million passengers in the period.
It reported that it had 70% of its first half booked, and said it should recover a £100m increase in its fuel bill to leave losses for the first half between £140 and £160m, compared with the £153m loss reported in the first half of last year.
Easyjet's chief executive, Carolyn McCall, said the company had made a strong start to the year and she was "cautiously confident" in her outlook for the business.
The company said it continued to make steady progress in attracting business passengers, whose numbers grew by 200,000 to 2.3 million passengers in the quarter.
Keith Bowman, equity analyst at Hargreaves Lansdown Stockbrokers, said the figures outstripped expectations.
"Despite a difficult backdrop, Easyjet continues to surprise on the upside," he said.
"Sales growth is outpacing cost growth, with the group's move to attract business travellers showing early promise."
Earlier this year Easyjet introduced a £9 flat administration fee to replace the previous £8 booking fee levied on customers paying with most debit cards.
The company believes that the fee will not be subject to any new legislation, after the government vowed to ban excessive card surcharges when passengers buy tickets online by the end of the year.