CBI says retail sales fell in January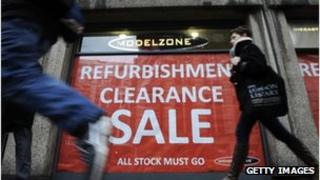 Retail sales fell in January as shoppers reined in their spending at the start of the year, the CBI says.
Its monthly survey of the distributive trades found 44% of retailers said sales volumes were down on a year ago.
With 22% saying they had seen sales rise in January, there was a negative balance of 22% of retailers, the lowest since March 2009.
Retailers expect sales volumes to continue to fall in February, albeit it at a slower pace than this month.
They reported January sales as disappointing for the time of year.
Hardware and DIY stores gave the gloomiest report among the retail sector, with online and mail-order faring the best.
Recent weeks have seen a number of high street names closing stores and appointing administrators, including Past Times, La Senza and Pumpkin Patch.
Others, including WH Smith and HMV have seen sales or profits slip.
Meanwhile, food outlets, including Asda, McDonald's and Subway are expanding and creating jobs.
Ian McCafferty, the CBI's chief economic adviser, said: "Shoppers have reined in spending across the board at the start of the New Year after taking advantage of early discounting last month, which boosted pre-Christmas sales.
"Family budgets are under continuing pressure with inflation still high and wage increases modest."
Howard Archer, chief economist at Global Insight, said the findings pointed to another quarter of weak economic growth: "Given the key role of consumer spending, the CBI survey heightens concern that the economy is set for further contraction in the first quarter of 2012 after GDP fell 0.2% in the fourth quarter of 2011, thereby putting the UK back into recession."
He added that poor sales were likely to lead to further falls in the rate of inflation.