AT&T posts $6.7bn fourth-quarter loss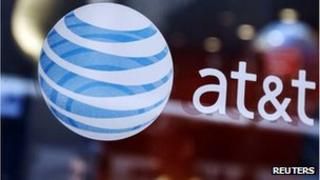 US phone network AT&T has reported a $6.7bn (£4.3bn) net loss for the three months to the end of December 2011, compared with a $2.1bn profit in the same period in 2010.
The loss was despite record smartphone sales in the period. AT&T sold 9.4m smartphones, including 7.6m iPhones.
AT&T was hit by charges for its benefit plan and the high cost of providing the iPhone to its customers.
Net profits for the whole of 2011 fell to $3.9bn from $19.9bn in 2010.
'Questions raised'
Revenue for the fourth quarter rose 3.6% to $32.5bn, the company said in a statement.
Sales figures were boosted in the quarter by the launch of the iPhone 4S. Looking at annual sales, the iPhone's percentage of AT&T smartphones fell to 69% in 2011 from 79% in 2010.
Analyst reaction has centred on the profit margins that AT&T have when selling smartphones.
"AT&T's quarterly margins are volatile - historically they've varied by around 10 percentage points, typically compressing in a quarter when they see the launch of a new iPhone model [as in this case the iPhone 4S]," said Paul Marsch at Berenberg Bank.
"Even so, the magnitude of this quarter's decline raises questions about the sustainable level of margins in the long term, and about the up-front costs of servicing smartphone driven growth."
iPhone dependence
AT&T chief executive Randall Stephenson promised to market other smartphones "very aggressively" after AT&T lost its exclusive right to sell iPhones in the US in 2011.
Rival Verizon started selling iPhones in February 2011 and has seen rapid growth in sales.
Most of AT&T's iPhones were upgrades to existing subscribers with the firm adding 717,000 new customers over the fourth quarter.
The firm is currently the largest carrier of iPhones in the United States and the second largest mobile network in the country.
AT&T's bid to become the largest US carrier was ended in December last year when it abandoned its attempt to buy T-Mobile USA from Deutsche Telekom after running into fierce government and regulatory resistance.