Annuity selling is 'unfair and opaque', says NAPF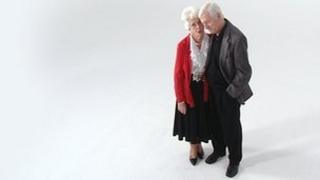 The way annuities are sold is costing half a million retirees each year as much as £1bn in future pension income, a report claims.
The National Association of Pension Funds said the sale of annuities was "hugely unfair and opaque".
Annuities are the annual incomes most retirees buy with their personal pension pots.
The NAPF said the problem lay with obstacles that stopped many people shopping around for the best deals.
Its report also said the insurance firms which sell annuities were guilty of "sharp practice and murky pricing".
"The process for choosing an annuity is a complex one and the majority still go for the "default" option by sticking with their pension scheme provider," the NAPF said.
"This failure to shop around for a better deal can wipe 30% off their annual pension income, and in some cases up to 50%," it argued.
'Toxic system'
The NAPF based its arguments on research carried out by the Pensions Institute, a department of the Cass Business School in London.
With the decline of final-salary pension schemes, most people employed in the private sector now put their pension contributions into so-called defined contribution schemes.
In these, their contributions are invested and when they retire the accumulated sum can be used to buy a guaranteed annual income for life.
The problem, the NAPF said, is that many obstacles are in the way of those who might be better off shopping around among different insurance firms - the "open market option" - rather than just accepting the annuity offered by their pension saving company.
Joanne Segars, chief executive of the NAPF, said savers were being "short- changed by a toxic system".
"Every year a billion pounds that could have been paid out in pensions instead disappears down the plughole of a murky annuity market," she said.
"Lower and middle income workers are especially vulnerable - too many end up stuck with the wrong annuity at a bad price," she added.
Persuasion needed
The NAPF's report said most people retired with pension pots worth less than £50,000.
However these were not large enough for most annuity advisers to make a profit by giving advice on which annuity should be bought.
Few people, the NAPF argued, knew enough to successfully chose an annuity themselves.
And those who were able to shop around may have found that the best deals were simply not advertised.
"It is virtually impossible to find a specialist adviser who covers the whole market and who is willing to help those with smaller funds," the NAPF said.
Meanwhile, most employers did little more than give their retiring staff a leaflet directing them to a price comparison website.
Tom McPhail, of the financial supermarket Hargreaves Lansdown, said: "The pensions industry and the government have a responsibility to ensure that the information sent to investors in the run up to retirement makes it as easy as possible to shop around."
"This is something they have demonstrably failed to do in the past and even today it is proving a struggle to push insurance companies and pension schemes into giving their customers a fair deal," McPhail added.
However he argued that there are in fact enough annuity brokers who would be willing to advise customers with small pension pots, but the problem lay in persuading retirees to use them.
"At present investors sometimes struggle to see past their existing insurer's uncompetitive annuity terms and to find someone who can help them get a better deal," he said.
Inaccurate
The NAPF report also took a dim view of the way annuities are priced by the insurers selling them.
It identified a number of "sharp practices" such as insurers "tailoring" their annuity prices according to how much money was being used to buy the annuity.
"Annuity rate bands can have 'cliff-edges'... penalising customers who could get a better rate by having as little as £1 more in their pot," it said.
Otto Thoresen, director general of the Association of British Insurers (ABI) said such claims were wrong and based on anecdotal evidence only.
But he agreed with the report's general thrust.
"We fully agree that all customers need to shop around," he said.
"70% of our customers already shop around with 44% switching provider, but this is a critical decision for our customers so we need to do all we can to improve this further.
"We are consulting on a compulsory code for our members to help the third of customers who don't shop around to make sure they take the right decision and get the best deal," Thoresen added.
From April 2011 it became no longer effectively compulsory for most people to buy an annuity with their pension pots by the age of 75.
Even so, for most people, buying one at retirement is still the most sensible and least risky option as it guarantees an income for life.