UK bank lending to shrink in 2012, says Item Club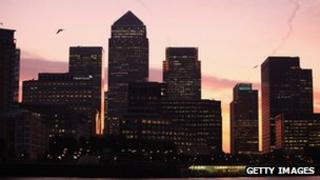 UK bank lending is set to shrink this year for the first time since 2009, according to the Ernst & Young Item Club economic forecasting group.
Total lending is expected to fall by 2.2% with corporate loans down 5.7%, hitting small and medium-sized firms and affecting UK growth prospects.
Loans to consumers are set to fall by 5.4%, the Item Club predicts.
But it adds consumers are increasingly seeking alternative sources of finance, such as payday loans.
Project Merlin
The Item Club said that overall bank lending rose by 4.3% last year. After contracting this year it expects lending will rise by just 0.9% in 2013.
The contraction in corporate lending is expected to hit the the construction and real estate sectors and smaller companies in particular.
"Funding for small and medium-sized enterprises is likely to be particularly difficult to obtain as banks seek to reduce credit risk," said Neil Blake, senior economic adviser at the Item Club.
"The average interest rate on smaller loans, of £1m or less, is already double that charged on loans of £20m or more, and we expect this trend to continue.
"As these young companies tend to be high-growth businesses, this will have adverse knock-on effects for economic growth."
Banks were asked to increase their lending to small businesses in 2011 in an initiative from Business Secretary Vince Cable called Project Merlin.
The four biggest British banks (RBS, HSBC, Lloyds and Barclays) plus Santander committed to make £190bn available to business in 2011, of which £76bn was for smaller businesses, an increase of £10bn or 15% compared to 2010.
The Item Club's predicted fall in lending to smaller businesses for 2012 affects one of the most important commitments in Project Merlin, since it is smaller businesses that have been complaining of being starved of vital finance.
"They [the banks] may be hitting the letter of the Project Merlin targets but certainly not hitting the spirit of it," Mr Blake told the BBC.
"From the bank's point of view they're being pushed to cut back, they're being pushed to be less risky, to rebuild their balance sheets and all that means is that they will cherry-pick."
'Phenomenal rise'
The Item Club report noted that consumers were increasingly turning away from banks when seeking access to funds.
It said that although bank and building society lending to individuals had shrunk by 23% (£34bn) since 2007, lending by alternative consumer credit providers had risen by 42% (£29bn) over the same period.
"The contraction in consumer credit is driven by lack of demand to an extent, but we just need to look at the phenomenal rise in payday loans to see that the focus on decreasing demand masks a shift towards alternative providers, " Mr Blake said.
"Households that fall outside of the credit terms of traditional lenders are increasingly looking toward other credit providers, regardless of the cost," he added.
"With banks expected to further tighten lending conditions, we expect the shift towards alternative lenders to continue unabated."
Transaction tax
The report also looked into the possible effects of a tax on financial transactions on the City of London.
The financial transaction tax, often known as a Tobin tax after the Nobel laureate economist James Tobin, is being championed in Europe by French President Nicolas Sarkozy.
President Sarkozy has said he will introduce the tax in France after the elections which take place this year.
The Item Club predicts that the UK would generate about three-quarters of the revenues from any financial transaction tax (FTT) if it was applied across the European Union.
"Taking the EC's estimates at face-value, if the FTT is introduced across the EU, the UK financial sector would generate around 75% of the total revenues," said Mr Blake.
"However, even if the UK were to opt out of the FTT, if a reverse charge mechanism was applied, we expect the UK financial sector would still contribute around 60% of total revenues. Moreover, these revenues would flow directly to governments in the eurozone rather than to the UK Exchequer."