UK house prices rose 0.6% in January, Halifax says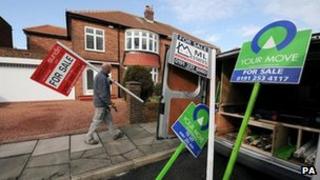 UK house prices increased by 0.6% in January, according to the latest survey from the Halifax.
The change means that the average cost of a house was £160,907 last month, the bank said.
House prices are 1.8% lower than a year ago, according to the Halifax's measure.
The bank said prospects for the housing market over the coming months depended on whether the debt crisis in the eurozone would affect the UK economy.
"If the UK can avoid a prolonged recession, we expect broad stability in house prices in 2012," said Martin Ellis, Halifax's housing economist.
Static
The Halifax, now part of Lloyds Banking Group, said that the price of the average home in the UK was very similar to the average value in the middle of 2011.
This had held up owing to the low level of interest rates, the lender said.
And Tracy Kellett, managing director of UK buying agent BDI Home Finders, said: "House prices are being held artificially high by two key factors - an extreme lack of stock and historically low interest rates.
"Throughout 2012, we are likely to see a further widening of the north-south divide. Prices will be hit hardest where the economy is feeling it the hardest."
Annual view
House prices in the three months to January fell by 0.9% when compared with the previous three months, the Halifax said. This three-month on three-month comparison is often thought to be a better measure of underlying conditions in the market.
Last week, the latest survey from the Nationwide building society valued the average home at £162,228. It said that prices fell by 0.2% in January compared with December.
The Nationwide said the annual rise in house prices in January was 0.6%, notably different to the 1.8% fall recorded by the Halifax.
However, the year-on-year comparison is calculated slightly differently by the two lenders. The Halifax compares the previous three months with the same three months a year earlier to give a smoother comparison, rather than a direct comparison of the equivalent months.
The interactive content on this page requires JavaScript