Pension costs to rise faster, actuaries warn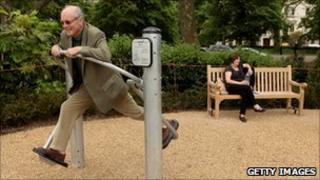 The mortality rate in England and Wales improved again in 2011, which could have a knock-on effect on pensions, actuaries have suggested.
The number of deaths fell to 484,000, according to official figures.
Crunching the numbers, the Actuarial Profession said the death rate fell by 4% - down from an average annual drop of 2.4% in the previous decade.
Actuaries Punter Southall said falling death rates would inevitably make it more expensive to fund pension schemes.
Last year was the third in a row in which deaths had been below 500,000.
The figures - from the Office for National Statistics (ONS) - suggest that 20,000 fewer people died in 2011 than would have done in previous years.
Punter Southall's head of mortality research, Ross Matthews, said: "If the 2011 fall in mortality rates continued, a man of 65 retiring today could expect to live to 91, three years longer than the typical current estimate of 88."
"A 45-year-old would live to 95, seven years longer. This equates to an increase of up to 15% on pension scheme liabilities, potentially driving deficits by up to 50%".
But Gordon Sharp, of the Actuarial Profession, warned that death rates could be volatile from year to year, and said that not too much should be read into one year's provisional improvement.
'Well above average'
"The last 20 years have seen unprecedented improvements in mortality rates, particularly for pensioners," Mr Sharp said.
"These figures are initial estimates for 2011, and are subject to revision once the ONS publish updated population estimates for the year.
"However, we are able to say with confidence that the mortality improvement for 2011 has been well above the average," he added.
The ONS has put the improvement down to better medical treatment of illnesses and diseases, and said circulatory diseases had seen the biggest fall as the recorded cause of death.
Last month, the ONS reported that in 2010 for the UK as a whole, death rates had fallen to their lowest-ever levels.
It said UK mortality rates for males and females have fallen from 1,261 and 768 deaths per 100,000 people in 1980, to 655 and 467 in 2010.
That meant mortality rates for males and females had fallen by 48% and 39%, respectively, between 1980 and 2010.