US bank promotes Vietnam infrastructure projects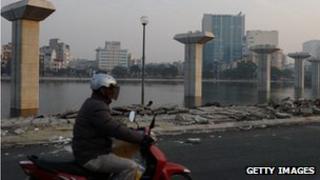 The US is looking to play a bigger role in the fast growing economy of Vietnam through infrastructure projects.
The chairman of the independent US federal agency Export-Import Bank (Ex-Im Bank) has pushed for infrastructure deals worth $1.5bn (£949m).
They include projects related to satellite communication, thermal power and renewable energy.
Vietnam's economy grew by 5.8% in 2011, but challenges remain as it battles one of the highest inflation rates in Asia.
Fred Hochberg, Ex-Im Bank chairman is meeting Prime Minister Nguyen Tan Dung and other government leaders in Ho Chi Minh and Hanoi to promote the deals.
"Vietnam is a country of enormous potential and it is vital that we work together and invest in projects that benefit both of our economies," Mr Hochberg said.
"Vietnam's infrastructure continues to develop at a rapid rate, and I want to make certain that high-quality American goods and services are available for these projects."
Mr Hochberg is in the country on a visit until 8 February.