Bellway says UK housing market is resilient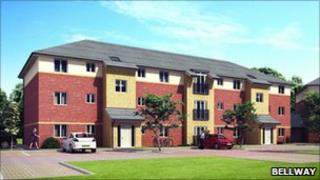 UK housebuilder Bellway has said the housing market is remaining "resilient" for now, after reporting a rise in sales and viewings.
The group sold 2,455 homes in the six months to the end of January 2012, up 5% on the previous year.
The average selling price rose 8.7% to £183,000, up from £168,428 in 2011.
The Newcastle-based group said that a 20% growth in visitors viewing properties boded well for the busy spring selling season.
"With visitor levels up by around 20% since the beginning of January and with the government's new 'Mortgage Indemnity Guarantee' (MIG) scheme about to be launched, early indications are that the housing market remains resilient," Bellway said.
The MIG scheme is one aspect of the housing strategy announced by the government in November last year.
It will guarantee lenders against their losses if certain borrowers fail to repay their loans.
The aim is to encourage lenders to offer mortgages to up to 100,000 potential buyers of newly-built properties who have, perhaps, just a 5% deposit, and not the 20% deposit that lenders typically require at the moment.
The results have been well-received by analysts.
"Bellway's trading statement is positive," said Mark Hughes at Panmure Gordon.
"It highlights that the company has achieved a higher level of unit sales and increased selling prices, as well as year-on-year margin expansion."