'Useless' Iranian sanctions blight UK business: Lamont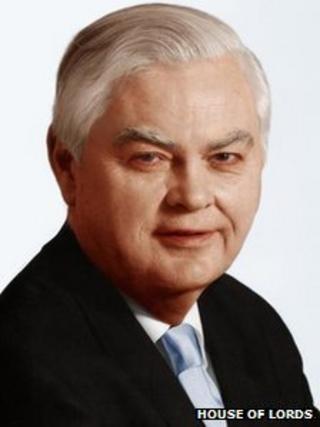 Former Chancellor of the Exchequer Lord Lamont says imposing economic sanctions on Iran will not work.
"I can only say we are banging our heads against a wall with this approach... Iran will not buckle under these sanctions," he says.
Lord Lamont - chancellor in John Major's government in the early 1990s - says British companies are also being hit and losing out to rivals in Asia.
Foreign Office minister Alistair Burt insisted UK security was the priority.
Figures compiled by companies exporting to Iran show that direct trade dropped from just under £500m in 2008 - to an estimated £170m in 2011.
'Nasty' regime
There are also restrictions on British banks doing business with Iranian banks and a ban on businesses trading with Iranian transport and energy companies.
Sanctions against Iran have been tightening since 2005 as concerns have mounted that Iran is secretly engaged in developing a nuclear weapon.
The most recent round of sanctions came in January, with European Union ministers placing a ban on the importation of Iranian crude oil into Europe.
Lord Lamont is chairman of the British-Iranian Chamber of Commerce, a UK-based trade group.
The former chancellor says he deplores the "nasty" regime that exists in Tehran, but argues sanctions are counter-productive.
"The effect of sanctions is to hit the private sector in Iran, drive companies bankrupt and drive them into the arms of the government, or into the hands of the Revolutionary Guards and into alliances with people in the government smuggling the goods they desperately need," he says.
"I'm not sure this will have the right effect.
"Could this produce regime change? It's possible but in my view it's just as likely that it will bolster the strength of the regime."
An investigation by File on 4 shows the sanctions are also hitting companies in the UK, many of whom can still trade legitimately because the goods and services they provide fall outside the controls.
But the practicalities of doing business make trade almost impossible.
The BBC has spoken to the owner of a chemical company in the North West of England which manufactures a component for indigestion medicines.
'Innocent product'
The firm has been exporting the chemical to Iran for the past 25 years but he has now decided to suspend trade.
The owner, who does not want his company to be identified, says the restrictions placed on the banks make it difficult for him to get payment for his goods.
"It's a great shame because this is a completely innocent product," he says.
"I received information yesterday from commercial contacts in Iran that Indian and Chinese manufacturers are now preparing to replace us and that is a great pity after 25 years of selling these products into that country."
Lord Lamont says sanctions are not a one-way policy - they affect businesses in the UK.
"The problem with sanctions is that we think we're imposing a cost on them [Iran] but we're also imposing a cost on ourselves in terms of lost jobs, lost output and in some cases bankruptcy of the firms involved," he explains.
Lord Lamont says as trade between Britain and Iran has declined, the trade between businesses in Asia and Iran has grown.
Foreign Office minister Alistair Burt admits sanctions may have an impact on the UK but they had to be seen in the light of what they are trying to achieve.
"If stopping nuclear proliferation is the prime importance - which it is - it is disappointing there are problems for others along the way, but that must be the most important task we're engaged on," he says.
"We try and look very carefully to make sure that we get it right.
"We would ask everyone to understand that what we're engaged in here is a matter of national security, it's designed to make us safer, it's designed to bring the Iranians to the negotiation table and make them pause.
"It's not the easiest of processes but thinking of the alternatives - it's a lot better than that."
Listen to the full report on File on 4 on BBC Radio 4 on Tuesday, 14 February at 20:00 GMT and Sunday 19 February at 17:00 GMT. Listen again via the Radio 4 website or download the podcast.