US home building up in January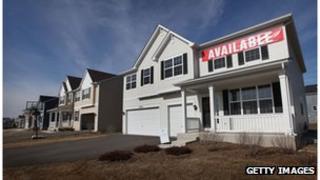 US new home building rose 1.5% in January to an annualised rate of 699,000 compared with December's revised rate of 689,000, figures show.
The January rate is also up 9.9% on the same period in 2011.
The number of building permits in January also rose 0.7% to an annual rate of 676,000, compared with December's figure of 671,000.
Analysts said the figures raised hopes that the housing sector could bolster the economic recovery in the US.
"The surge in new homebuilding at the end of last year and start of this year is the surest sign yet that the housing market has turned a corner," said Paul Diggle at Capital Economics.
"We expect housing starts to continue to edge higher throughout this year. This should go some way to supporting the wider economy, but it won't be enough to turn a moderate economic recovery into a spectacular one."
The home starts survey from the US Commerce Department shows when work begins on new flats or homes.
The figure is seen as a leading indicator of economic activity because starting construction on a new home creates jobs and orders whose effect should ripple through the economy.
Although the number of home starts has started to gain ground, home building in the US still remains low when compared with levels seen before the sub-prime mortgage crisis in 2007, when new homes were being built at an annualised rate of over a million homes a year.