US manufacturing lifted by demand for cars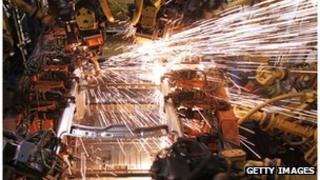 US manufacturing grew for the second month in a row in January, according to figures from the Federal Reserve.
A jump in auto production helped manufacturing grow 0.7% last month. December's growth figure was also revised upwards to 1.5%.
But industrial production, which includes mining and utilities, was unchanged in January.
Utilities output, hit by a warmer than usual winter, fell 2.5% and mining production fell 1.8% in January.
A 6.8% surge in auto output gave manufacturing a big lift, accelerating from a 3.8% increase in December.
Economists say the manufacturing figures are further evidence that the US economy is picking up.
"Some encouragement can be taken from the sharp upward revision to the performance in December, which underscores the turnaround in US economic fortunes in recent months." said Millan Mulraine, from TD Securities in New York.