Lion Air on plane ordering spree as it seeks expansion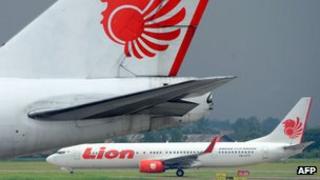 Indonesia's Lion Air has placed an order for 27 ATR aircraft for its regional subsidiary Wings Air, in a bid to service the country's smaller airports.
The deal, valued at $610m (£389m), will make Wings Air one of the largest operators of such aircraft.
This comes a day after Lion Air confirmed a deal, announced last year, to buy 230 Boeing planes worth $22.4bn.
The order is the biggest in Boeing's history.
Analysts said the Indonesian carrier was keen to tap into the fast-growing domestic and regional market.
"There seems to be a lot of demand within Indonesia across various segments," Siva Govindasamy of Flightglobal told the BBC.
"The traditional low cost market is seeing an increased demand and Indonesia's economic growth is also boosting demand for regional travel among consumers."
'New travel possibilities'
Indonesia is South East Asia's largest economy and has been growing robustly. Figures out earlier this month showed that its economy grew by 6.5% last year, the fastest pace in 15 years.
Analysts said that as the country grows further, the demand for air travel was likely to follow suit.
At the same time, they said increased spending by authorities in infrastructure development would also help boost demand.
One of the big contributors to air travel growth is likely to be travel between smaller cities and airports in the country's various islands.
Indonesia's 240 million-strong population is spread across an archipelago that has more than 17,000 islands.
"The ATR aircraft are perfectly adapted to the Indonesian short-haul market and allow Wings Air to connect communities, even those located in remote areas," said Rusdi Kirana, chairman of Wings Air and president of Lion Air.
"Our fleet of ATR 72s is playing a major role in the development and democratisation of the aviation services in Indonesia, bringing new travel possibilities, at low rates, to an increasing part of the population."