Ladbrokes plans new shops as betting bucks downturn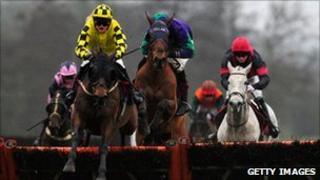 Bookmaker Ladbrokes has reported a small increase in annual operating profits and says it plans to open 60 more shops as people continue gambling despite the slowdown.
Gaming machines proved particularly popular, with almost £10.5bn being spent in them, up 14% on last year.
The UK's second-biggest betting chain. described over-the-counter betting as "resilient" after taking in £2.5bn.
Ladbrokes' overall operating profits was £193.5m, up 0.4% on last year.
Gross win - the total bets minus the payouts - from gaming machines rose by 19.2% to £360.9m.
Ladbrokes said its new stores would cater more for football, bet-in-play - betting while the event is underway - and machines.