Asia debates more rights for domestic workers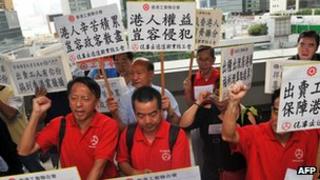 Filipina Teresita Herrera Blanco has worked in Hong Kong for more than 16 years, cooking, cleaning and babysitting as a domestic helper for a local family.
She says her employers treat her well but should they decide they no longer need her, she would have just two weeks to find another job or she must return to the Philippines.
Unlike Hong Kong's expatriate bankers, lawyers and teachers, who can apply for permanent residency after seven years, maids aren't eligible to apply for the right of abode, no matter how long they have worked in the city.
However, a high-profile case being heard by Hong Kong's courts this week could result in Ms Blanco, and tens of thousands like her, being able to settle here.
But this prospect is causing a public outcry in Hong Kong and illustrates the struggle foreign domestic workers throughout Asia face as they strive for better working conditions.
"I love my country," Ms Blanco tells BBC News on her one day off a week. "But it could be a good opportunity."
Protest march
In September, a High Court judge said that the exclusion of foreign domestic workers from a rule that allows foreigners to settle in the city after seven years of uninterrupted residency was unconstitutional.
The case centred on Evangeline Banao Vallejos, a domestic helper who has lived in Hong Kong for 25 years. The government's appeal against the verdict begins on Tuesday.
After the September ruling thousands marched in Hong Kong to protest against the strain granting foreign domestic helpers residency could place on public services and the job market. Experts fear similar protests could follow this week's hearing.
"There have been a lot of negative and discriminatory attitudes. I can understand it to a certain extent because people feel threatened," says Cynthia Tellez, general manager at the Mission for Migrant Workers.
"But the bottom line is that anyone who wishes to apply for permanent residency should be treated equally," she adds.
Economic mainstay
Hong Kong is home to 292,000 domestic helpers, mainly from the Philippines and Indonesia.
They are not just a luxury for wealthy and expatriate families, but a mainstay of Hong Kong family life and allow many middle-class mothers to work outside the home.
With a guaranteed minimum wage, a day off each week, statutory holidays and annual paid leave, domestic workers in Hong Kong fare better than elsewhere in Asia.
But their status is still unequal. Maids earn a minimum wage of HK$3,740 ($482; £304) a month, compared with around HK$4,480 for other workers, and their lack of residency rights means their fate is very much tied to their employer's whims.
The case has also ignited a wider debate on the working conditions of the hundreds of thousands of maids throughout Asia.
In Singapore, foreign domestic workers are excluded from the city-state's Employment Act, which means rest days, salaries and daily work hours are left up to negotiations with the employer.
There is now a campaign under way to legislate a weekly day off but many Singaporeans have reacted angrily to the suggestion.
"Are maids really that overworked?" asked one teacher in a letter to the Straits Times newspaper that was widely circulated on the internet in July.
"My maid has a day off once a month. Every time she comes back from her outings she appears even more tired and listless, and needs to recuperate from her outing."
Malaysia has also signed a new agreement with the Indonesian government, which in December lifted a 2009 ban on its citizens travelling to Malaysia to work as domestic helpers following cases of mistreatment.
It guarantees maids will be able to hold on to their own passports rather than have them held by their employer or agency, but it is not legally binding.
"There are small developments but there have been not substantive changes in working conditions in most Asian countries," says Lotte Kejser, chief technical adviser for the International Labour Organization in Jakarta.
"Foreign domestic workers are in increasing demand because of urbanisation and pressures on middle-class families to earn two incomes, but supply is also increasing as new markets open up like Vietnam and Cambodia."
Scaremongering
It's not clear how many maids would apply for residency in Hong Kong should the rules be changed.
The government has said that 125,000 helpers would be eligible to apply for permanent residency, and if each has a spouse and two children, that number could reach 500,000.
"If this stream of migration was over 20 years then, yes, maybe we could cope with this influx of migrants but in a short period of time then I think any reasonable community would find that difficult to accommodate," says Pan Pey-chyou, a legislator and vice-chairman of the Hong Kong Federation of Trade Unions.
"And they will look for other, higher-paying work and compete with local workers. Some also speak English, as well as their native language, and this could put local workers at a disadvantage," he adds.
But many organisations representing domestic helpers accuse the government of scaremongering. They say that only a fraction of those eligible are likely to apply and there is no way of knowing whether they would try to bring their dependants to Hong Kong.
The family of the woman at the centre of the case, Ms Vallejos, have told local media that they do not want to leave the Philippines.
Ms Tellez at the Hong Kong Mission for Migrant Workers says her organisation has not received many inquiries so far.
"That may change after the ruling but most leave home for an indefinite but temporary period. They don't plan to leave for good."
For Ms Blanco, who spends Sundays offering advice to fellow domestic helpers who congregate underneath the skyscrapers of Hong Kong's financial district on their day off, applying for residency would allow her to feel more secure in the country where she has spent most of her working life.
But that sentiment is not shared by her daughter, Evangeline Herrera Menorta, who also works in Hong Kong. She says she would like to return to the Philippines soon and does not want residency.
"I've worked here for almost 10 years but still the Philippines is more comfortable for me," she says. "I would die if I could not go back."