US turns up heat on China solar subsidies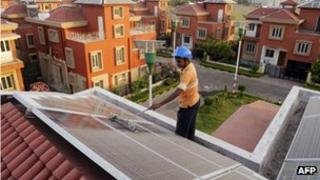 In the search for sustainable energy, the battle for the growing solar market could be set to trigger a trade war between China and the US.
At the heart of the dispute is the claim that China pays unfair subsidies to its solar companies.
Gordon Brinser of Solarworld Industries America, has called upon President Barack Obama to impose a tariff barrier on the imports of Chinese solar products.
"The incentives that are provided to the Chinese industry are clearly meant for the export of product into foreign industries to basically take over those markets," he says.
But the head of the Chinese company Suntech, the world's largest producer of solar panels, says Chinese firms are not the only ones in the industry which receive government subsidies.
Shi Zhengrong admits he gets research and development grants from the government, but points out that German companies also get subsidised investment from their own government.
"This is a very young industry which requires government support," he says.
Failing companies
The price of solar panels dropped more than 30% in 2011 - a fall linked to the cheap product made in China.
Although this has been bad for US manufacturers, it is good for the people who install solar panels.
While a significant number of solar panel makers have gone bankrupt in the US, thousands of jobs are being created to install them.
One reason for so many jobs being created is that there are subsidies in the US to encourage people to install solar panels.
That has prompted China to announce it is looking into US government support for renewable energy, just weeks after the US Commerce Department accepted an industry petition to investigate whether solar panels from China were unfairly priced.
Twelve US manufacturers have either downsized or shut down over the last 18 months, and many other companies are on the verge of laying off workers.
"Several global companies have announced layoffs due to the massive Chinese onslaught of product," says Solarworld's Mr Brinser.
Supremacy challenged
As far as the solar industry is concerned, US federal and state governments provide incentives to companies to locate in certain areas, but most incentives generally help the consumer and create a demand for the product.
"The Chinese government is heavily subsidising manufacturing, taking American jobs over to China, bringing product into the US, taking advantage of the incentives the US government offers to the customer side and taking that money back into the Chinese economy," Mr Brinser argues.
On the bright side, however, it is estimated that 50,000 jobs are being created to put solar panels on homes.
Solar panel installations in the US have risen by almost 90% in the last year, according to research by the Solar Energy Industries Association.
There are those who believe that the tariffs on Chinese solar products which Mr Brinser is advocating could lead to a loss of US jobs.
"On the contrary," he argues, "The supply and demand for solar is very complex. We have incentives at the state and federal level for installations, we have carbon adversity by the consumers, and there is also renewable portfolio standards that are all built into the demand of solar."
He maintains that the subsidies and incentives available in China are illegal by World Trade Organization rules and by US law.
"If we don't stand up now and put a stop to this trade war that China started, Chinese solar industry will have a monopoly. That's bad for the environment, that's bad for jobs and that's bad all around," he says.
There have been counterclaims from China, which argues that the US has been illegally subsidising companies. Chinese firms quote the polysilicon feed stock business, claiming that the US has been introducing illegal subsidies to support its companies.
Mr Brinser says his argument goes beyond just a simple product.
"This is about energy independence. This is about American innovation that was invented in the US and energy monopoly by the Chinese would undermine long-term international security," he says.
"Americans pioneered solar and we want to rebuild this industry because of the significant impact it has from an economic, environmental, and an energy and security standpoint."