UK public finances in biggest surplus for four years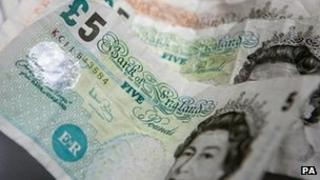 The government received more money than it spent in January leaving it with its highest monthly surplus in four years.
The Office for National Statistics (ONS) said the surplusfollowed a fall in local government borrowing and a rise in tax receipts.
It said the public sector made a net repayment - excluding financial interventions - of £7.75bn, up from £5.2bn a year ago.
January's finances are often in surplus because of a spike in tax receipts.
The government has borrowed £93.5bn in the tax year to date, down from £109.14bn in 2010-11.
Chris Williamson, chief economist at Markit, said the figures meant the government was on track to meet or even beat its borrowing target of no more than £127bn this year.
"With two months to go, that target looks easily attainable," he said.
"The target would still be met even if the deficit in February and March matched the recent record of £29bn seen for these two months in 2010."
In the year 2010-11, the government borrowed £136bn.
Shaky ground
The UK's total public sector net debt, excluding financial sector interventions, fell back to £988.7bn, or 63% of gross domestic product, having breached £1tn in December.
The level of government borrowing is one of the data series looked at by ratings agencies, which judge the likelihood of a borrower defaulting, something that can affect the cost of borrowing.
Last week, the ratings agency Moody's warned that Britain could lose its top, triple-A credit rating in the next 18 months.
Ross Walker, economist at RBS, said these borrowing figures could weigh positively on Moody's continuing assessment: "It's a good set of data. We are still borrowing huge sums, but against a backdrop where we had Moody's negative outlook and there was growing talk about the UK's rating... these numbers help."
Despite the improved borrowing figures, the UK economy remains on shaky ground.
Official data on Friday is expected to confirm the economy shrank by 0.2% in the final three months of 2011, and the Bank of England last week said it expected the economy to "zigzag" in and out of growth this year.
The Chancellor, George Osborne, will deliver his annual Budget next month.
The chief economist at the British Chambers of Commerce, David Kern, said the January borrowing figures gave him scope to help the economy grow.
"This gives the chancellor some room for flexibility in his upcoming Budget to implement measures to support growth and help companies create jobs, invest and export," he said.
"This should include an effective credit easing programme and an aggressive reduction in red tape."