South Korea wins Royal Navy tanker deal worth £452m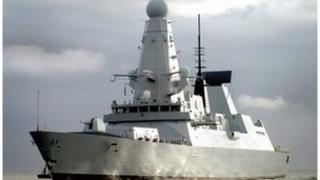 The Royal Navy has chosen South Korean firm Daewoo for a £452m deal to build four new fuel tankers.
The 37,000-tonne Military Afloat Reach and Sustainability (MARS) tankers will allow the Royal Navy to refuel at sea.
UK firms took part in the tender, but the Ministry of Defence (MoD) said none made a final bid to take part.
Shadow defence secretary Jim Murphy said the move was "more bad news for British industry" while the GMB union said it was angered by the decision.
Keith Hazlewood, GMB national secretary, said: "Once again UK taxpayers' money is being spent abroad on ships which are vital for the Royal Navy to defend our shores.
"A proactive UK government could have put a consortium together to build these tankers in the UK."
British design
Despite being built in Korea, the UK has won £150m of associated contracts to assist the project.
These include £90m on UK contracts for equipment, systems, design and support services.
There will be a further £60m investment in the UK to be spent on customising the ships for the Royal Navy, trials and specialist engineering help.
The winning design of the four tankers has been completed by UK company BMT Defence Services, based in Bath.
The tankers, which are due to enter service in 2016, will each measure 200m in length and replace models that date back to the 1970s.
Each will be able to fill the equivalent of two Olympic-sized swimming pools in an hour.
Minister for Defence Equipment, Support and Technology, Peter Luff, said: "Over the next decade, the government will be investing billions of pounds in our maritime capabilities to ensure that our Royal Navy remains a formidable fighting force.
"This project will inject up to £150m into UK industry and support and maintenance will also be carried out in the UK.
"The government remains committed to building complex warships in UK shipyards."
Chief of Defence Materiel, Bernard Gray, said: "The MARS tanker is an exceptionally versatile platform; able to simultaneously refuel an aircraft carrier and destroyer whilst undertaking helicopter resupply of other vessels".
Labour's shadow defence secretary expressed disappointment at the deal going abroad.
"This is more bad news for British industry. First we lose out to France over fast jets and now we lose out to South Korea over Royal Navy tankers," said Mr Murphy.
He added: "The government do not have an active defence industrial strategy. I'd like to see more of our defence industry with a 'made in Britain' stamp on it. The country will want the government to do more to support British industry."