Intercontinental Hotels to create 3,000 jobs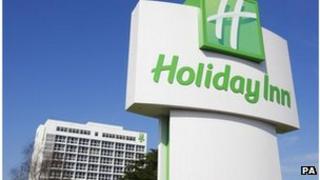 Intercontinental hotels, which owns the Holiday Inn and Crowne Plaza hotel brands, says it will create 3,000 jobs in the UK.
The company, the world's biggest hotelier, has 275 hotels in the UK.
The jobs will be created over the next three years, and will be supported by a new London-based training academy.
The training facility will be based close to the Olympic stadium in east London and will be run in conjunction with Newham College.
It is the latest announcement by a company in the catering and entertainment trade to announce job creation plans this year.
Subway the sandwich maker and McDonald's have also announced they will be taking on staff.
Olympic expansion
Intercontinental said it would provide local people with hospitality training and practical work experience.
The Deputy Prime Minister Nick Clegg was at the launch of the academy.
He said the scheme would help the young unemployed, of which there are about a million in the UK.
"The British service sector is world-beating, and will soon welcome millions of guests.
"Intercontinental are leading the way in their sector through a tailored academy programme. It's an added investment that means young people can learn the skills for the industry in a local college, and then start their career in a local hotel."
Intercontinental also said that two new hotels were due to be opened in time for the Olympics.