Wynn Macau removes co-founder Kazuo Okada from board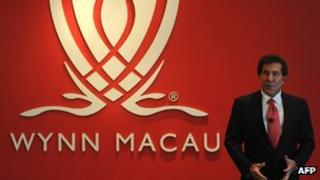 Casino company Wynn Macau has removed co-founder Kazuo Okada, it said in a filing to the Hong Kong Stock Exchange.
It is the latest escalation in a battle between Mr Okada and long-time business partner and casino mogul Steve Wynn, who is chief executive of Wynn Resorts.
At an emergency board meeting on Friday the firm, part of US parent Wynn Resorts, decided to oust him.
It comes amid allegations of illegal payments to regulators, something that Mr Okada denies doing.
Unauthorised payments
"The board determined that it was obligated to remove Mr Okada as a non-executive director given the unacceptable conduct by Mr Okada, his employees and associates detailed in the independent report," the company filing said.
That report is at the centre of a lawsuit, filed on Sunday, by Wynn Resorts against Mr Okada.
In the legal action they claim Mr Okada made at least $110,000 (£70,000) in unauthorised payments to two gaming officials in the Philippines.
Last weekend, the Wynn board also moved to buy out Mr Okada's 20% stake in Wynn Resorts for $1.9bn - a 30% discount to its market value.
Mr Okada is trying to block the move with a temporary injunction.
The Macau unit of Wynn was able to take action unilaterally to remove Mr Okada from its board.
However, it would take a shareholder's vote to remove him from the board of US parent company Wynn Resorts.
"Misleading assertions"
Before the board meeting, the Reuters news agency reported that Mr Okada had sent a letter to the board of Wynn Macau saying he would not be attending.
He had said his attendance would be meaningless as his removal was all but certain, according to the news agency report.
"I disagree with the decision to remove me as a director because it is based on false and misleading assertions in a report that was created only to serve as a means to discredit me," Mr Okada said in the letter.
Last month Mr Okada sued Wynn Resorts in Las Vegas, questioning a $135m donation a unit of the company made to the University of Macau.
He said he was not allowed to access company records which essentially barred him from investigating the matter.
Wynn Resorts said last week that the US Securities and Exchange Commission had launched a preliminary investigation Mr Okada's accusations.