Payday lenders to be investigated by OFT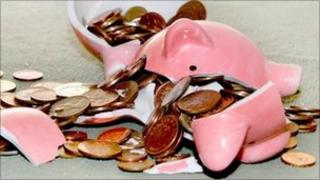 Payday lenders will be investigated by a regulator amid concerns that they have been pushing loans to people who cannot afford to repay them.
The review by the Office of Fair Trading (OFT) will involve visits to 50 lenders and could lead to enforcement.
It is concerned that firms may have been giving out loans to borrowers before checking they can pay them back.
The OFT is also worried that lenders may be allowing customers' debts to spiral by rolling them over.
Payday lenders offer short-term, high-interest loans to consumers, with the suggestion that the money is paid back within a month, when they receive their next pay cheque.
Despite some negative publicity surrounding payday loan firms, the OFT has previously said that they and other high-cost credit businesses - such as pawn brokers or home-credit lenders - should not have their interest charges restricted.
It concluded in 2010 that they provided a useful service for some people who would not otherwise be able to borrow legitimately and who might thus be forced to borrow from illegal loan sharks.
'Fairness'
Now the OFT is set to launch a fresh investigation amid concerns that some lenders are aggressively pushing loans to people who cannot afford to repay them.
The regulator has the power to remove credit licences from companies that fail to keep to rules on lending. After the previous review, 43 companies surrendered their licences and action was taken against a further 13, which ensured their licences were withdrawn.
The OFT's latest review will assess:
Whether loans are issued before lenders check the borrower's ability to repay
Evidence of any inappropriate targeting of people - such as students, those on benefits and the unemployed - with unsuitable credit
Cases of lenders rolling over loans for month after month with the result that charges escalate and loans become unaffordable
Not treating customers fairly if they get into financial difficulty
A sweep of the websites of 50 lenders has already been conducted. The industry and consumer organisations will also be consulted.
The results will be published later in the year.
"We are concerned that some payday lenders are taking advantage of people in financial difficulty. This is unacceptable," said David Fisher, of the OFT.
"The payday sector has grown considerably since the OFT's high cost credit review in 2010. This, combined with the current tough economic conditions, makes it the right time for us to review the industry and improve protection for consumers."
The Consumer Finance Association (CFA), which represents the biggest payday lenders, has welcomed the review, claiming that some providers are giving the industry a bad name.
"We have to identify areas of malpractice and stamp it out," said John Lamidey, the CFA's chief executive.
"We know that there are payday lenders around whose advertising is completely misleading and do not carry out the right levels of financial checks. In fact some of them brag about that, but they are not and will never be members of the CFA."
He argued that the industry did "meet a need" for consumers and that a code of conduct, which was currently being enhanced, set the standard for how lenders should conduct themselves.
'Multi-billion pound industry'
The Financial Ombudsman Service (FOS) said it received about 1,000 consumer enquiries a year about payday loans. About 200 go on to more detailed investigation.
Complaints are most commonly about lenders' responses to consumers who have said they are in financial difficulties, according to FOS.
Sarah Brooks, director of financial services at watchdog Consumer Focus, said: "Payday lending is now a multi-billion pound industry with lenders employing big advertising and sponsorship budgets.
"We have long held concerns about this market and welcome it being put under the microscope."
Peter Vicary-Smith, chief executive at the consumers' association Which?, said: "We would urge the OFT to also address the poor privacy provisions and lax website security common in this market.
"Borrowers need to know what will happen to their data when they sign up for a loan, and that data must be protected."