What if you got paid to play games at work?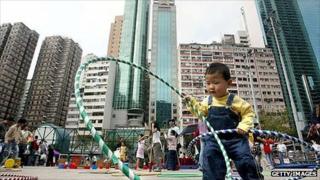 "When you get down to near death it's amazing the clarity you get about what's really important and what is not.
"I started this company 18 years ago right out of college," says Next Jump founder and chief executive officer (CEO) Charlie Kim. "It had grown in the dot com phase to 150 employees, but by January 2002 it was down to four people."
The company specialises in loyalty and reward programme technology, and counts some of the biggest corporations in the world among its clients - but the company very nearly did not make it.
The new-found clarity provided by the bursting of the dot com bubble led Mr Kim to readjust his priorities.
"Having the right human capital is of the utmost importance. More people isn't better. Less of a higher quality is better. That was one of the biggest realisations," he says.
The other big watershed was a renewed focus on the health and welfare of his workforce.
For Mr Kim this meant encouraging his staff to exercise and eat properly. As well as the health benefits, exercise leads to higher energy levels and greater productivity, both vital to a small, struggling web company.
From running around the boardroom table in the early days, Mr Kim invested heavily in a state of the art gym, complete with personal trainers. This attracted about 15-20% of the staff - but Mr Kim wanted more.
He decided to divide the company into five teams - this drew yet more people to the bench presses, but it wasn't enough.
It wasn't until one of the engineers created online leader boards that the company saw an increase in participation from 30-40% to about 80% of employees working out twice a week in the gym - which in a company where two-thirds of the staff are engineers is unusual, to say the least.
For Mr Kim using game mechanics - or gamification - got his workforce moving.
The great game
"[Gamification] is the process of using game thinking and game mechanics to engage audiences and solve problems," says author and CEO of Gamification.co Gabe Zichermann.
"So put another way it's using some great ideas from games where we normally wouldn't associate them."
Gamification has been around since long before the internet came along. Leader boards in sales environments are just one example.
"What companies are doing with gamified design can be thought of as focusing on four core activities," says Mr Zichermann.
"[These are] innovation, recruitment, increasing happiness, and increasing productivity or output.
"We have new techniques and new technology and language but the fundamental concept is not new... for example, the use of badges and levels to reinforce work behaviour is the core design of the military."
Enterprise gamification
Siemens teaches employees about running a factory using a game that features Pete the plant manager. United Parcel Service (UPS) also uses games for staff training.
Rypple - now part of Salesforce.com - lets you give coworkers, employees and your superiors feedback on microtasks from your mobile phone. Retail giant Target has speeded up transactions at its checkouts by letting staff compete against each other.
Mr Zichermann points to research that suggests that in the US by 2016, companies are expected to spend just under $3bn (£1.89bn; 2.23 euros) on gamification. Technology analysts Gartner predict that by 2014 70% of big companies will have a gamified application.
One of the reasons for this, according to Mr Zichermann, is young people - 'millennials' - joining the workforce.
"Millennials are different from previous generations largely because of their exposure to video games. These have really changed their expectations of how work should be. They actually think work should be fun."
This isn't the only reason of course.
"Unless you're actually pathologically competitive simply competing on a score isn't enough. You have to enjoy playing the game," says Donald Farmer of business intelligence specialists Qlikview.
"[There is the] concept of flow. Flow is effectively this mental state that people get into when they're playing a game.
"Have you ever found yourself searching for something on Google and then 30 minutes later you're looking at something completely different and you don't know where the time has gone? If that's happened, then you've been in a state of flow."
Winner takes all
LiveOps is a technology company that provides customers with cloud-based call centre software, as well as a bank of contact centre staff who work as contractors.
Staff are selected for jobs based on performance, and as part of this they use an application called MyWork Community powered by Liveops which is built on the Nitro platform.
"One of the reasons why we started looking at gamification was to address how can we get our workforce to always outperform," says Sanjay Mathur, vice-president of product management.
Participation is voluntary, and workers compete against each other for badges and other rewards. Mr Mathur says the application is not a fix-all.
"I think we're going to continue to use these techniques. But gaming or game mechanics is not a panacea. You can't just take it and wave it at the problem and hope that everything is fixed. You really have to understand the motivation of your players."
Bunchball are the people behind the Nitro platform.
"A large part of the interest we get now comes from the business side, as people are realising this can help with software adoption, it can help build productivity, it can help with training, it can help with human capital management," says Bunchball's Mike Earhart.
The company is expanding fast.
"What we realised was we could take the goodness from the Nitro platform and sort of package it up and apply it on top of other existing [customer relationship management] software applications like Salesforce.com."
Salesforce.com chief scientist JP Rangaswami says companies must not be complacent when it comes to adopting gamified applications.
"You're not going to suddenly get people to do things they hate doing just because you've got a leader board on it."
He says that the company has at least 50 customers who are using some form of gamification.
"I think it's happening now because work is changing and we need better tools," he says.
"[Despite the recession] there is still a war for talent. And this war for talent is not restricted to the 16-24 year olds. It is as meaningful for the 55-64 year old. I will be 55 this year so I should know."
Kam Star of gamification company Playgen believes the advantages go beyond staff retention and motivation.
"Successful gamification of the enterprise will be measured in improvements in efficiency and contribute significantly to employee engagement and by extension to profitability.
"Since this means a competitive advantage, any company cracking the code will not want their competitors to know their secrets. For this reason the real gamification winners will more than likely remain hidden for some time."
Virtual realities
Business communications company Avaya has developed a virtual environment where companies can hold meetings, work on projects and collaborate called web.alive. Users create an avatar, and can then move between auditoriums, conference rooms and private spaces.
The idea came directly from mainstream gaming, says Avaya's Brett Shockley.
"One of our team members was talking to his brother who had a small business. They were actually using World of Warcraft as somewhere to do company meetings. This led to us thinking about whether gaming was a good environment to use for business collaboration.
"What you find is that you end up with this immersive environment that is a lot more engaging."
Not everyone is a fan, however.
Dr Ian Bogost is a professor at the Georgia Institute of Technology and co-founder of games company Persuasive Games. He has written several books on gaming.
"As someone who has spent the last 10 years trying to move the use of games forward as a medium beyond entertainment... I lament the idea that this very simplistic and insubstantial version of games has enjoyed such success.
"There seems to a trend that where incentives were once real material incentives, now we have false incentives.
"In the workplace for example, let's say I once motivated my workers though pay increases or benefits, or through training programmes.
"Now I don't need to do that, I just need to give you the impression that you're being valued. The intent if you take it to its logical conclusion is to cease to have to provide real rationales or real incentives, because now you can provide these virtual ones with no or low cost.
"The name 'exploitationware'... I hope kind of exposes the rationale behind the gamification trend, which is to get something out of people for nothing."
'Start small'
Despite this, gamification looks likely to spread.
Technology analyst and gamification specialist Brian Burkecertainly thinks so. He says a mixture of game recognition - and real rewards such as cash, probably works best. Mr Burke also feels that forcing workers to join in is counterproductive.
"Some people resent that because of the extra effort, and some people don't want to be involved in anything that looks like a game.
"Offending social norms is another thing - for example leader boards are not considered a positive incentive in all cultures. In some cultures its not attractive to be singled out as the winner.
"Our general advice is don't take the big bang approach," he says.
"Minimise the impact. Start small and build rather than trying to change the world in a single day."