Infiniti unveils UK-made supercar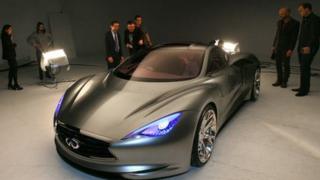 Japanese luxury car firm Infiniti has unveiled a supercar that has been penned, engineered and produced in the UK.
The Infiniti Emerg-e, which was created at parent company Nissan's European technical centre in Bedfordshire, has a powerful electric motor designed to send the car rocketing from nought to 60mph (100km/h) in four seconds, and to deliver a top speed of 130mph.
"In terms of performance, it's somewhere between a Porsche Cayenne and a McLaren MP4-12C," insists Jerry Hardcastle, head of vehicle design and development at the centre.
But unlike conventional electric cars, the Emerg-e is also kitted out with a 1.2 litre three-cylinder mid-mounted petrol engine that extends its range to 300 miles, Mr Hardcastle explains in an interview with BBC News at a preview event ahead of the official launch in Geneva on Tuesday.
'Sustainable mobility'
Francois Bancon, who heads up Nissan's exploratory and advanced product department, says the Emerg-e is central to Infiniti's efforts to establish itself as a credible rival in the luxury car segment.
"This is not just another premium luxury car," he says.
"We aim to create a new symbol for the brand.
"It is not only about horse power and acceleration - we think something is emerging, which is sustainable mobility."
This green-tinged approach is part of a notable shift in direction for Infiniti, which entered the European market three years ago with a series of large, thirsty cars with powerful V6 and V8 petrol engines.
"Infiniti, which we introduced in Western Europe as a high-end muscle car type of brand, is actually much broader than that," insists Andy Palmer, board member of Nissan Motor and global head of Infiniti, in an interview with BBC News.
Infiniti already sells a car that Guinness World Records describes asthe world's quickest hybrid, it is preparing to launch an all-electric car in two years, and it is installing frugal Mercedes diesel engines in future models.
The hope is that such technologies will help it stand out as an alternative to its appointed rival, the world's leading luxury car company BMW.
"The point of Infiniti is to be the de facto alternative to German luxury," says Mr Palmer.
Although its marketing message still focuses mainly on driving pleasure, BMW has long made hay from an overtly green image that has earned it the Dow Jones Sustainability Indexes crown seven years running asthe world's most sustainable car company.
Collaborative approach
But the Emerg-e is not merely a competitive tool for Infiniti and Nissan.
"This is our research and development and design teams doing a bit of exploring and risk taking," says Mr Hardcastle, pointing to how the Emerg-e has been born out of a range of new partnerships.
"It is the first Infiniti prototype designed and developed outside Japan," he says.
"We wanted to collaborate with new partners, particularly in the UK but also across Europe, and we wanted to introduce new technology to Nissan."
The three-cylinder petrol engine, for instance, has been picked from theLotus parts bin.
"We don't always announce it when we work with Lotus, but they're old friends," says Mr Hardcastle. "We've worked with them before."
The car's carbon fibre construction has helped halve the vehicle's weight and improve its strength by 20% when compared with a same-sized conventional car, according to analysis carried out by Cranfield University.
Even the batteries come from an external supplier, Amberjac, with the electric motor delivered by Evo.
"As a technology demonstrator, I hope it will do a lot for the UK's reputation, and for the reputation of all the supply companies," says Mr Hardcastle.
Infiniti's latest car has been developed in close cooperation with the UK government's Technology Strategy Board initiative.
"One of the jobs of the prototype car is to take all these technologies to Japan," he continues, in a clear hint that the best suppliers in the UK and the rest of Europe might attract further orders from Nissan in the future.
The Geneva motor show is open for the public from 8-18 March.