Fiat confirms plans to invest $1.1bn in Russia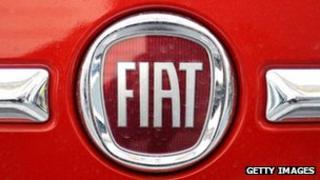 Fiat has signed a deal that could see up to to 850m euros ($1.1bn, £720m) invested in Russian plants.
Russia's Sberbank will provide financing and plans to take a stake in the project of up to 20%.
Fiat will start with a range of cars based on Chrysler's Jeep brand and then expand to other models and engines.
The plan is to build a plant in the St Petersburg region and assemble cars in partnership with Russia's ZIL in Moscow.
With a target production of 120,000 cars a year, Fiat has scaled down its plans for Russia.
It had hoped to produce 500,000 cars a year in a joint venture with Russia's Sollers.
But that deal fell through last year when the Russian firm replaced Fiat with Ford.
A subsequent plan to produce 300,000 cars was described by Russia's economic development ministry as unrealistic.