US economic growth revised up to 3%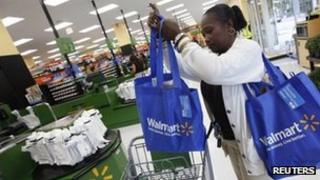 The US economy grew by more than first thought in the fourth quarter of 2011, government figures have shown.
The economy grew at an annualised rate of 3% in the October to December quarter, the Commerce Department said, up from its previous estimate of 2.8%.
The growth estimate was revised up because consumers spent more than first thought, and businesses cut spending by much less.
Economists hope it could pave the way for stronger growth this year.
The first estimate of economic growth in the fourth quarter was released in January. This is the first revision to the figures, and they will be subject to a second revision in another month's time.
On a non-annualised basis, the economy grew by 0.7% compared with the previous quarter, according to calculations from the data.
'Steady improvement'
Most of the growth in the fourth quarter was driven by companies restocking their shelves. Many had reduced their inventories over the summer, when they feared the US might enter recession.
Consumer spending was also revised up from 2% to 2.1% in the fourth quarter, thanks to a big rise in spending on durable goods.
"This shows a steady improvement despite all the volatility in stock prices we had last year and shows that we are nowhere near lapsing back to recession," said Tim Ghriskey, chief investment officer at Solaris Group.
"It's not a major revision and it's backward looking so it will probably have a modest impact on the market today."