Nissan prepares major model roll-out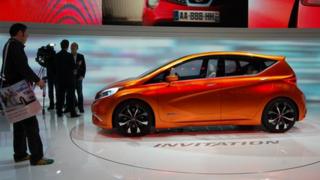 For a rather small car, Nissan's Invitation has attracted a great deal of attention at the Geneva motor show this week.
The car's ability to attract £125m investment and create some 2,000 jobs in the UK was widely hailed by British politicians and media as a great success.
As far as the carmaker is concerned, however, the Invitation is merely one of the 51 models it is planning to launch over the next six years.
On average, that is a car launch every six weeks - though not all of them will be sold globally, of course, and many of them will be mere tweaks to existing models.
Nevertheless, many of the new cars will be produced in several factories at the same time, so Nissan says it is actually preparing to start production of a new or a refreshed model in one of its factories every two weeks between now and 2018.
"Last year, we sold 4.2 million cars, this year we're gonna sell probably going to sell over 4.7 million cars and the next year even more," grins Andy Palmer, executive vice president at Nissan, in charge of global products.
"This is a brand very much on the move."
Asian brand
Nissan's model onslaught is part of an ambitious strategy aimed at lifting global sales from just over four million cars currently to almost eight million in 2016.
"New cars are always part of growth," says Mr Palmer.
"In Europe, and globally, our intention is to take an 8% market share.
"Within that strategy, Europe is a very important component. It's very much our intention to become the number one Asian brand in Europe."
Dramatic growth
Nissan is already growing at a dramatic rate, with global sales rising to 4.67 million vehicles in 2011, up 14.4% when compared with 2010.
The carmaker enjoyed particular strength in Europe, where sales rose 25% when compared with 2010.
Last month, Nissan's market share in Europe stood at 4.1%.
And within Europe, Russia rose to become the carmaker's main market, with sales rising 74% to more than 138,000 cars.
Look-alikes
Creating a closer family resemblance between different Nissan models is a central idea behind Nissan's strategy.
The idea is that small and large models should look similar, the way a father and a son might, yet allowing for different sizes and abilities.
In the past, Nissan's loosely connected model line-up has been criticised because it has failed to build strong brand loyalty the way rivals such as Ford or Volkswagen have, with their tightly connected ranges of cars that enable customers to grow up with the brands by moving from smaller to larger models that resemble each other.
This is now being fixed, with the Hi-Cross concept an example of things to come.
"It is an SUV concept that will sit above the Qashqai," says Mr Palmer, insisting that the car represents a "flow of architecture that will resonate across the whole brand".
Nissan's new design language is central to its growth plan, according to Mr Palmer.
"You very much have to know and be true your own personality and be confident in your brand's DNA," he says.
"It's that personality that drives brands, it's that personality that drives growth of the brand worldwide."
'Adapt quickly'
Nissan also believes its ability to speed up the vehicle development cycle has made it a more competitive company.
Currently, it takes the carmaker just three years from when an idea is hatched to when a car rolls off the production line, which means it can adapt quicker to changing consumer tastes than many of its rivals.
"You can do virtually everything in a digital environment," says Trevor Mann, Nissan Europe's senior vice president for manufacturing.
"And our organisation is of a size and a quality to be able to adapt very quickly."
For a rather small car, Nissan's Invitation has attracted a great deal of attention at the Geneva motor show this week.
The Geneva motor show is open for the public from 8-18 March.