How not to be left at sea by new business technology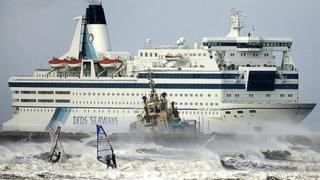 There is a price comparison website for almost anything these days if you look hard enough.
One such site is DirectFerries.com, which allows sea-going travellers in 20 countries to book ferry tickets.
This family business was set up in 2002 and despite their chosen form of transport being very traditional, they have leapt feet first into technology.
On the back burner
After a year of trading the firm invested in optimising its nascent website.
This led to sales "going absolutely mad", according to director Matt Davies.
With a 450% increase in business in the second year and 12% growth year-on-year since, the firm can't get enough of technology, recently launching a mobile version of its site.
But even with 47 staff and a turnover of £42m in 2011, Direct Ferries shows how difficult technology decisions can be for small businesses.
"The big issue is we are a small company and we don't have huge technology resources," says Davies.
"If we bring in new products then there are various things we have had to put on the back burner, like working out how to accept new types of payment or letting customers amend tickets online."
Technology for growth
A recent poll of small businesses across Europe's biggest economies showed how important firms thought technological innovation would be to their growth in 2012.
More than three out of four (76%) of respondents in France and Germany said IT would be integral to driving their business this year, according to the research for the Epson Business Council, a panel of European entrepreneurs.
They were followed by 73% of Spanish respondents who gave IT top billing, 68% of Italians, and in last place by 51% of the UK firms polled.
Even then, the technologically-conservative British respondents said most of their technology was no more than two-years-old.
This is all very well in principle, but with innovation come a lot of question marks - particularly if you are running an outfit that simply can't afford to gamble large sums on the latest toys.
This dilemma was summed up by Sara Murray, founder of another price comparison site, Confused.com.
"With limited resources and often too much choice, working out what to do about IT can be a minefield for SMEs," she said when Epson's figures were released.
"When do you shake off the old adage, 'if it ain't broke, don't fix it'?"
Warning signs
Ben Norman, managing director of digital marketing agency Koozai, says there are often clear warning signs that outdated technology is holding back a business.
"The first and most obvious of these comes when you are unable to perform certain essential tasks using existing hardware," he says.
"If you and your teams are struggling to carry out day-to-day duties efficiently, then it is time to update your systems and technology."
To this list, Kevin Taylor, chief executive officer (CEO) of another digital agency, Gravytrain, adds firms finding themselves losing pitches because they can't offer the things that potential clients might want, such as online order tracking.
"Does the business notice rival businesses are being successful with a much smaller headcount, possibly even 'one man bands'?" he asks.
"Lean, efficient, micro-businesses, set up on the back of cloud technologies, effective outsourcing and flexible 'virtual offices' are increasingly posing a threat to traditional small businesses."
Making choices
If such tell-tale signs apply to anything from your overhead projector to your whole IT network the next question is what should you replace it with?
Three things small firms should be thinking about are affordability, ease of use and whether or not the technology actually fits the business, says John Antunes, a director of small and medium-sized enterprise (SME) operations at business software firm SAP.
"Whatever technology SMEs invest in, whether it's new cloud capabilities, analytics or mobility solutions, it needs to be able to grow with the business, providing functionality you will need both now and in the future," he says.
But with a slick salesman at every turn, ready to sell something new and clever-sounding, firms need to work out when a desire to rush in should be tempered by a fear to tread.
'Shiny Object Syndrome'
Online business manager Kate Gerry works with small businesses to help them get the right systems in place.
She warns against "just going the newest gadget or technology out on the market" - something she calls 'shiny object syndrome'.
"Whilst that can feel great short-term I would always ask the question: 'does it do what I need?' before purchasing," Ms Gerry says.
"It's so important to be clear on the strategy of why you need something and what you want it to do - don't just get pulled in by the bright, shiny object."
A good source of information can be peers sharing their insight on any number of social media, such as Twitter, Facebook and LinkedIn.
Confused.com's Sara Murray recommends online forums and small business websites that have networking facilities, where you can post questions on business-related issues.
She says "many small business owners are incredibly active on them" and will "gladly offer advice".
But always be aware that while they may have chosen just the right piece of kit, there's always the chance they too have fallen into the trap of coveting the shiny things.