Gap shares jump 7% after strong February sales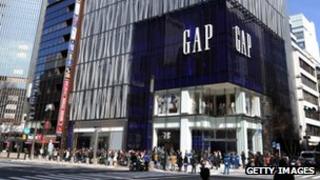 Shares in Gap jumped 7% after it reported strong February sales.
Unusually warm weather has encouraged US shoppers and Gap said its spring products have been selling well.
With sales growth of 12%, the company's Banana Republic chain had a particularly good month.
After a sluggish holiday season, Target reported a 7% rise in February sales, one of its best months since late 2007. It said that customers spent more on its food and health care products.
It was also a strong month for Limited Brands, which owns Victoria's Secret and Bath and Body Works. It reported an 8% increase in same stores sales.
Consumer spending accounts for almost 70% of economic activity in the United States, so economists watch closely the fortunes of the big retailers.
"This was a very strong month. A new life has been breathed into the retailers,'' said Ken Perkins, president of research firm Retail Metrics
"Consumers are starting to feel much better about their overall situation.''