Bangladesh and India may open transit networks to boost trade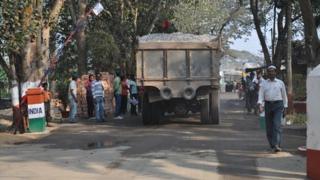 The Akhaura border post between Bangladesh and India is a quiet, hot place.
Barbed wire cuts through paddy fields and ponds, keeping vigilant guards apart on both sides.
Bangladeshi trucks are lined up along a single-track road, waiting hours in the summer heat to cross into the north-eastern Indian state of Tripura and deliver their cargos of cement and gravel.
But while it may not be buzzing at the moment, Akhaura could soon become one of the main doorways to a trade corridor that could be worth more than $1bn (£700m) a year.
The key to it all will be India and Bangladesh agreeing a final deal which would see both sides given greater access to each other's road and rail networks and ports.
This would not only open up routes between India's eastern and north-eastern states - currently they are joined by a thin strip of Indian land called the "chicken's neck" - but also with countries such as Nepal and Bhutan.
"Transit is the beginning of a new development geography in which industries are relocated, people are relocated and trade takes a new character," says Dr Mashiur Rahman, who is an economic adviser to the Bangladeshi prime minister.
Long way round
At the moment, trucks from the Indian city of Kolkata travel about 1,600km (1,000 miles) to reach Agartala, the capital of Tripura state, one of India's most north-eastern states. Should they get permission to go through Bangladesh, the distance will be reduced to just 400km.
And with the drop in distance comes a significant drop in costs.
"We are now paying 80,000 rupees ($1,600; £1100) for each truck to bring goods from Kolkata to Agartala. If the trucks can come through Bangladesh, then the cost will only be 20,000 rupees," M L Debnath, president of Tripura Chamber of Commerce in Agartala, tells the BBC.
And while it seems like good business for companies, a new transit and transport deal would provide other benefits.
According to analysts, Bangladesh could leverage its unique geographical position and become a hub of the regional and sub-regional transport system. This would allow it to develop its infrastructure and generate more revenues from what it already has in place.
India, meanwhile, would get greater access to mineral deposits such as oil, gas and coal in its north-eastern states, and would be able to use the region as a gateway to South East Asia.
At the same time it might also help India offset a growing Chinese influence in Bangladesh. China is already the largest trading partner of Bangladesh, and the current government is seeking Beijing's help to build a deep sea port.
For land-locked Nepal and Bhutan, a deal would also give them access to the southern Bangladeshi ports of Chittagong and Mongla, greatly improving their ability to trade and build more interconnected economies.
"The recent global economic crises have once again alerted us to the need to access regional demand to counteract recession in the developed economies," says Debapriya Bhattacharya, an economist at the Centre for Policy Dialogue in Dhaka.
"It is not about only India getting access to its north-eastern states through Bangladesh, it is also about Bangladesh accessing markets in Nepal and Bhutan through India."
Bumpy ride?
However, while there are opportunities, there are also challenges.
Estimates suggest that as much as $10bn may be needed to build new express highways and to upgrade existing river and sea ports in Bangladesh.
"Our present roads and other infrastructure are not sufficient to transport Indian goods," says Mohammed Rustam Ali Khan, general secretary of the Bangladesh Truck Owners Association.
"Unless the roads are converted into four lanes, it will be difficult to move big Indian trucks."
However, the hope is that once India gets transit rights, it will encourage investment in both Bangladesh and its neighbouring countries, which in turn will speed development.
Another problem may be the political issues that could hamper the signing of the deal, and there are critics who argue that Bangladesh should not be in a hurry to sign a transit deal with India as it is one of the few trump cards that Dhaka holds.
"Transit is the only issue in which Bangladesh has supremacy," says Mohammed Rahmatullah, a transport expert from the Centre for Policy Dialogue.
He explains that all other areas where there are joint interests, such as river-water sharing and maritime boundaries, "are all in Indian hands".
Mr Rahmatullah adds that should India gain transit rights without resolving these other issues then it "will be difficult in a Bangladeshi context and people will be upset about this".
But while there are concerns, there also seems to be a broad consensus growing that connectivity will benefit both India and Bangladesh. And in this case, the need to trade may end up redefining relations in the region.