Lufthansa pushed into loss by BMI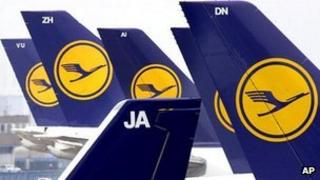 Lufthansa has announced an annual loss of 13m euros ($17m; £11m), as a result of losses and disposal costs at its British Midland International (BMI) subsidiary.
The net loss for 2011 compares with a profit of 1.1bn euros a year earlier.
Lufthansa agreed in December to sell BMI to International Airlines Group, the owner of British Airways, but the deal still needs regulatory approval.
BMI cost Lufthansa 285m euros in losses and disposal fees in 2011.
Lufthansa's annual revenues rose 8% to 28.7bn euros.