Heating oil scams investigated by police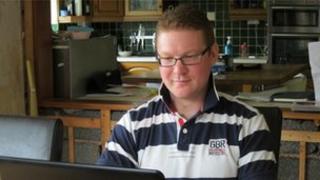 Heating oil customers are being warned to be careful about ordering through scam websites.
They demand payment upfront, usually by bank transfer, and then they fail to deliver.
Police are investigating at least 50 different cases from across the country.
Industry insiders believe the true scale of the problem could be much greater.
The price of heating oil varies from region to region, and month to month.
But roughly, people pay somewhere between 54 and 62 pence per litre of oil, and order somewhere between 500 and 1,000 litres a time.
"Lowest of the low"
Simon Lockwood, from Gamston in Nottinghamshire, decided to shop around on the internet when his supply became low last month.
He says: "We went online and checked prices, and found what we thought was a reasonable deal saving us a few pounds."
"Initially the website seemed OK, it seemed all above board.
"The one strange thing was you couldn't pay by debit card," he explains.
In the end though, he used a bank transfer to pay £305 to a company called Wholesale Prices Heating Oil. The oil never arrived.
Simon tried to call the company, before realising its website did not have a phone number.
So he sent several emails, but still did not hear anything back.
"I was annoyed when I realised that no oil was coming and no refund was coming," Simon says.
"I've got to go out and earn another £300 just to plug that gap, which is difficult when you're in construction because there's not a massive amount of work out there."
"I'm absolutely disgusted. Heating oil is a necessity not a luxury. I find it the lowest of the low," Simon adds.
Bank transfer
Several other people have been in touch with the BBC, telling very similar stories.
Pensioner Linda Aspland became suspicious when the oil she had paid for did not turn up.
She had ordered 1000 litres for £551.23.
John Taylor, Jo Symes and Mike Page have all emailed us saying they were conned out of the same amount.
Liam Holley had asked for extra oil, and it cost him £1058.03.
They were all asked to pay in advance, either by bank transfer, or by going into a bank branch and paying over the counter.
In security terms, that gives you about as much protection as giving someone a bag of cash.
"Growing problem"
The Federation of Petroleum Suppliers is a trade body that represents about 80% of oil distribution companies in the UK and the Republic of Ireland.
Mark Askew is the chief executive, and says he is very worried by stories like these.
"The evidence we're getting anecdotally indicates to us it's a growing problem, but it's impossible to actually get a handle on how big it is, because there doesn't seem to be a central body pulling the numbers together," Mr Askew says.
Simon Lockwood agrees with that and points out that it is not obvious who to complain to.
"We contacted the police, who seemed to want to pass it on, rather than to deal with it," he says.
"Then they passed us on to Trading Standards. They took the details, and they gave me the contact details for another department called Action Fraud.
"To be honest, I've not rung them. We've been scammed and nobody seems to be doing anything about it, " Simon adds.
Dodgy websites
Authorities say when something like this happens, it is important to speak to the right people.
Stephen Harrison is chief executive of the National Fraud Authority, which includes Action Fraud.
He says it should be the first call when people think they have been scammed.
"If you report to a local police force, with the best will in the world they won't know what's going on across the rest of the country," Mr Harrison says.
"If you come to Action Fraud, it becomes part of a bigger picture, we can therefore help the police take more effective action.
"We can see the pattern of offending across the whole of the country," he adds.
Mr Harrison says the same rules apply as with any online shopping.
"Be careful if you're dealing with a company that isn't a reputable company," he says.
"Try and do a little bit of background checking. Google them, see if there any complaints about them."
West Yorkshire Police are working on the complaints, and say they are investigating about 50 cases.
But a spokesman says the investigations are at an early stage, and no-one has been arrested yet.