NewBuy housing scheme: How will it work?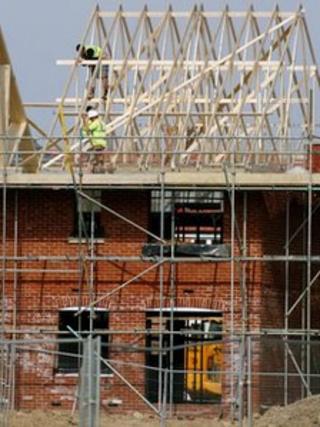 The government's NewBuy scheme is aimed at helping people in England who want to buy a flat or house but cannot afford to put down a large enough deposit.
The idea is that the scheme will prompt the sale of an additional 100,000 newly built properties.
This is equivalent to less than two months' sales in England at their current levels, so on its own it may give a temporary boost to activity but is unlikely to change permanently the depressed state of the market.
Even so, for some buyers who can comfortably afford the monthly mortgage repayments it could be very helpful.
How will it work?
From the buyers' point of view, they will have to identify a home that is being marketed by a builder as a NewBuy home.
They will then have to approach a lender that is also taking part in the scheme.
So far these lenders include just the Nationwide, Barclays and NatWest, though the Halifax and Santander say they will be offering NewBuy mortgages as well, in due course.
It is worth noting that that you will still need to have enough cash to put down at least a 5% deposit.
Both the Council of Mortgage Lenders (CML) and NatWest point out that the asking price being asked by the developer for a newly built property can be higher than if you were buying the equivalent home that had already been lived in.
"Some new-built properties carry an additional premium on the sale price that can reduce as soon as the property is occupied," the CML and NatWest say.
"This potential reduction in the value of the property is an important factor you should consider when buying a new home with a higher loan-to-value (LTV) loan."
So, look at the asking price and consider haggling, as many other buyers do these days.
Then, ask yourself if the home is still good value compared with anything else you might be able to buy.
The CML has published a guide to the NewBuy scheme on its website.
As well as the need to identify both a builder and lender who are taking part in the scheme, the CML points out its other main restrictions:
The scheme applies to homes only in England.
It will not cover homes for sale for more than £500,000.
Nor does it apply to shared ownership or shared equity purchases.
It cannot be used to buy a second home or a buy-to-let property.
You should be a UK citizen.
What about the mortgage?
This will be just like any other.
You are agreeing to borrow a very large sum of money and to repay it, typically over the next 25 years or so.
The protection or guarantee being offered in the NewBuy scheme is not being offered to you, the buyer, but to the lender.
That protection is in case you default and the lender faces a loss - which is greater than the 5% deposit you put down - when it repossesses your home and sells it to get its money back.
In those unhappy circumstances you would still be liable to repay the entire outstanding mortgage, including the 9% of the sale price that the lender was able to re-claim from the NewBuy scheme to cover the first tranche of its loss.
This means you must make sure that you can afford the full monthly repayments under the NewBuy scheme - it is not a state subsidy to you as a buyer.
Your lender should also be very careful to assess you on this point as well.
Simply applying for a NewBuy loan will not mean that money will be thrown at you with little or no further scrutiny.
In addition, the loans on offer are not all the same.
The Nationwide, for instance, will only lend on homes worth up to £250,000, not £500,000.
The deals, so far, are all at fixed rates, for initial terms varying from two to five years in length, and with interest rates varying from 4.29% to 5.99%.
As is common, there are extra fees on top as well.
What can go wrong?
As with any home loan, you may be unable to repay the amount owed.
You might fall ill, lose your job or get divorced - the main reasons for failing to repay a mortgage.
Your financial plans might also be disrupted by a wage freeze or your real income falling behind inflation.
House prices might also fall after you buy your home.
That will not matter much if you stay put for several years and maintain your income, paying off part of the loan as you go.
But suppose you want to sell and move?
House prices across England have fallen by an average of 11% since their peak back in 2008.
And those falls have been greatest in places outside London.
If a seller persuades you that their brand new home does indeed command a price "premium", and you sell up in a short time, you could find yourself in a serious financial hole.
The home you are trying to sell may not only be worth less than what you paid for it, but might also be worth less than the loan you took out to buy it - what is called negative equity.
That could stop you selling and moving altogether.
But as the CML points, out, that is a general feature of buying with a small deposit, not a special feature of the NewBuy scheme itself.
Buying now might be very attractive, especially if you feel you have been locked out by high deposit requirements for the past few years or are desperate to get out of rented accommodation or your parents' home.
But you might be better off in the long term by waiting a while and saving up a larger deposit.
And if you cannot do that, should you be buying at all in the first place?