Pension deficit drops slightly, says PPF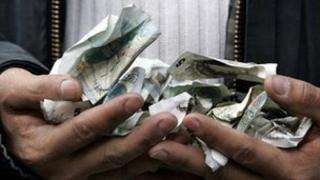 The collective deficit of the UK's private sector final-salary pension schemes dipped slightly during February, new figures show.
The deficit was cut from £266bn at the end of January to £222bn at the end of February, the Pension Protection Fund (PPF) said.
This compared with a surplus of £36bn a year earlier.
The monthly figures are volatile but give an indication of how the long-term cost of pensions has risen.
The collective deficit stood at a record of £271bn at the end of December.
There were 5,235 schemes in deficit at the end of February, and 1,197 in surplus, the PPF said.
Rising costs
A key factor behind the increase in deficits during the past year has been the Bank of England's attempt to bolster the economy with its policy of Quantitative Easing (QE).
This has driven up the cost of buying government bonds and driven down the yield, or return, for investors buying them.
The returns on government bonds are a key benchmark for calculating the cost of paying for pensions.
Last week, the National Association of Pension Funds said QE had increased the cost of paying for pensions by so much that pension fund deficits had widened by £90bn in the past six months.
That was in addition to the £180bn added to the deficits in 2009 and 2010.
The PPF pointed out that the value of scheme assets had risen by 8% in the past year, to £1.041 trillion at the end of February.
But in the same time the value of pension scheme liabilities - the stock of assets they need to pay all their promised pensions - had risen by 35% to £1.264 trillion.