US retail sales jump by most in five months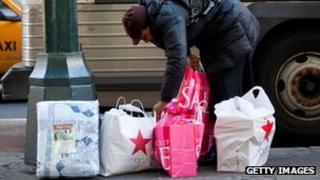 US retail sales rose by the most in five months during February, US Commerce Department figures have shown, fuelled mostly by demand for cars.
Sales increased 1.1% last month, compared with an upwardly-revised 0.6% rise in January.
The latest figures showed a 1.6% jump in car and truck sales, and added to signs that the US economy is recovering steadily.
The mild winter also boosted sales at stores across the country.
Sales at petrol stations gained by 3.3%, the biggest jump since March last year, after a 1.9% increase in January.
Sales at clothing stores gained by 1.8%, the biggest increase in that part of the economy since November 2010.
Consumer spending accounts for more than two-thirds of the US economy, which is the world's largest.
The retail sales figures add to optimism over the health of the economy, after the Labor Department said last week that the US economy created 227,000 jobs in February.
The unemployment rate stayed at 8.3%, the lowest level in nearly three years.