Taiwan firm found guilty of LCD price fixing in the US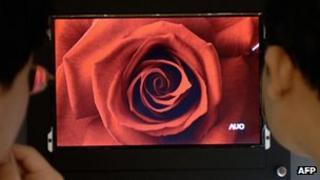 AU Optronics, one of Taiwan's biggest flat screen makers, has been found guilty of fixing prices of liquid crystal display panels in the US.
Two senior executives of the firm have also been convicted for colluding with rival manufacturers.
AU Optronics, which faces upto $1bn in fines, said it plans to appeal against the verdict.
The case is the latest in a series of moves against electronics makers by US authorities.
Last year, seven liquid crystal display (LCD) makers, including South Korea's Samsung, paid $553m (£357m) to settle claims of price fixing.
"The jury's decision to hold not only the companies but also their top executives accountable for their anti-competitive actions should send a strong deterrent message to board rooms around the world," said Acting Assistant Attorney General Sharis Pozen.
'Pricing authority'
The US prosecutors have alleged that the firm's executives held various meetings with rival manufacturers over the past few years in a bid to inflate LCD prices.
While AU Optronics did not deny that these meetings took place, it said the executives who attended did not have the power to influence prices.
"Several cooperating witnesses for the Department Of Justice who attended the crystal meetings testified that they did not have pricing authority, or even that they did not reach pricing agreements with competitors," itsaid in a statement.
The firm said it had also submitted evidence to show that it had priced its panels lower than the "so-called crystal prices from 2001 to 2006", which it said proved that it did not participate in any of price fixing.
At the same time, the company said these meetings took place in Taiwan and as a result were not covered by US law.
"Whether anything that might have occurred during meetings in Taiwan fell within the scope of US law. The jury's verdict does not answer that crucial question."